Lilian Thuram wants white players to make a stand against racism
Last updated on .From the section Football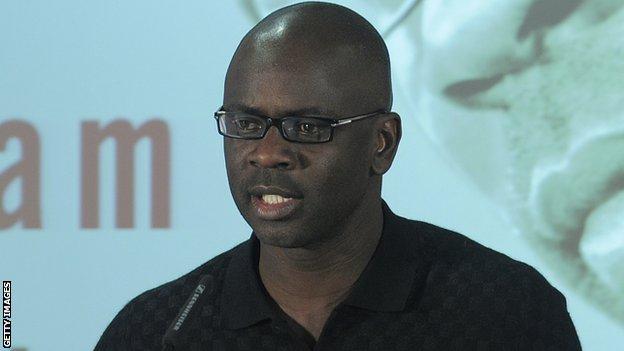 World Cup winner Lilian Thuram believes white footballers need to show solidarity in the fight against racism.
The former France defender, 41, says white players need to speak out when black footballers like Yaya Toure are subjected to racist abuse.
"As a general rule we always go to the players who are victims of racism, and I think it's the others who can change things," he told BBC's World Service.
"The action of not saying anything - somehow - it makes you an accomplice."
Thuram, who won the World Cup with France in 1998 and the European Championships in 2000, feels that the onus should not be exclusively on black players to protest against racist behaviour in football.
Manchester City midfielder Toure was subject to racist abuse by home supporters at Arena Khimki during his side's 2-1 Champions League win over CSKA Moscow on 23 October,
Toure later suggested that black players could boycott the 2018 World Cup in Russia if the country failed to deal with the issue.
Uefa subsequently ordered the partial closure of CSKA Moscow's stadium for the club's Champions League tie against Bayern Munich on 27 November as a punishment for their supporters' behaviour.
In an incident in January 2013, Milan's Kevin-Prince Boateng walked off the pitch after enduring racist chants during a friendly against Italian lower division club Pro Patria.
Former Barcelona and Juventus full-back Thuram, who retired from playing in 2008 after being diagnosed with a heart condition, says that overt support from white footballers would force soccer's governing bodies Uefa and Fifa to deal with the issue.
"When I speak about racism, or Yaya Toure or Kevin-Prince Boateng speak, everyone knows what to expect," he said.
"But if tomorrow all the white players from Manchester City say that from now on if something happens we will refuse to go back out on to the pitch, and if the players from AC Milan, from Inter Milan and from all the big clubs say the same thing, you'll soon see that we'll find a solution."