Rangers: David Somers appointed chairman as AGM date is set
Last updated on .From the section Football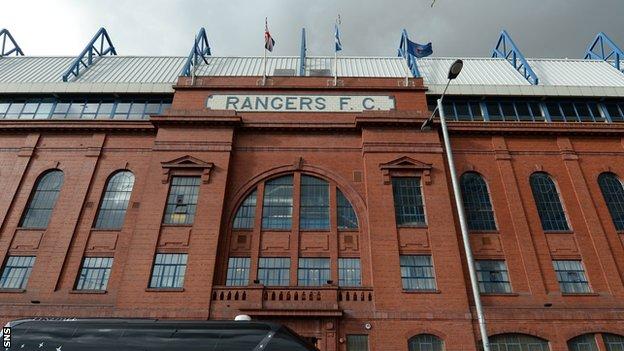 Rangers have announced that David Somers has been appointed as independent non-executive director and acting chairman of the club's board.
The club have also confirmed that their annual general meeting (AGM) will take place on Thursday 19 December.
The chairmanship has been vacant since in August.
Rangers say Somers will "oversee the process of appointing a high calibre chief executive officer and further independent non-executive director(s)".
last month with Bryan Smart also stepping down as non-executive director.
Following the departures of Mather, Smart, Smith and non-executive director Ian Hart, finance director Brian Stockbridge and James Easdale were the only board members left.
Rangers, who reported for the the 13 months to June, were due to hold their AGM last month but it was at the Court of Session.
That group want former chairman Malcolm Murray as well as Paul Murray, Scott Murdoch and Alex Wilson appointed as directors - proposals that must be on the AGM agenda following the court decision.
In a statement to the stock exchange, Rangers described 65-year-old Somers as "a qualified accountant" who has "spent all his career in fund management and in addition has considerable experience in matters of corporate governance".
The club say they hope that Somers will "form a unified board and provide stability for Rangers".
"In order to allow time for the process outlined above to be progressed, the company will hold its annual general meeting on Thursday 19 December," read the Rangers statement.
"Mr Somers will, in accordance with Rangers' Articles of Association, be subject to re-appointment by an ordinary resolution of the shareholders at the AGM."
The statement went on to outline Somers' current partnerships and directorships with Ace Europe Life Ltd, Europe Arab Bank plc, FRS Pension Trustee Company and TCF Investments Limited.