Everton boss Roberto Martinez backs concussion rule change
Last updated on .From the section Football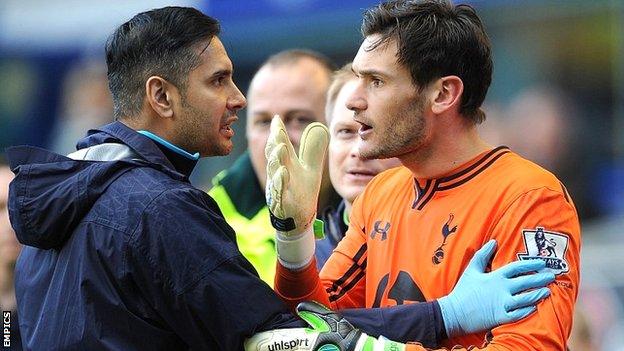 Everton manager Roberto Martinez has backed calls to stop managers making decisions on players with concussion.
Tottenham goalkeeper Hugo Lloris was knocked unconscious after a collision with Toffees striker Romelu Lukaku but continued after lengthy treatment.
Spurs boss Andre Villas-Boas received criticism for allowing Lloris to play.
"If there is a strong view from the medical side that a concussed player should come off we should look into it and make a rule," said Martinez.
"I don't think it should be a manager's decision whether you take a player off or not.
"It should be part of the game and a law. It would be very unfair to be a manager in a position where you have to take a player off just to avoid any sort of risk without having that medical knowledge."
World players' union Fifpro, the Professional Footballers' Association and brain charities were all critical of Villas-Boas after he said Lloris could continue in goal following the injury, which occurred late in the second-half of Sunday's goalless draw at Goodison Park.
"If anyone suffers severe trauma to the head and loses consciousness, they should be required to leave the field," said the PFA's John Bramall.
Fifpro medical advisor Vincent Gouttebarge said his organisation: "condemns that the health and safety of players are left to coaches, trainers or even to players themselves."
Meanwhile brain injury charity Headway said the Tottenham management team showed an "irresponsible and cavalier attitude".
Villas-Boas was incensed with the comments, stating he was happy to be guided by the Spurs medical team, led by highly-respected club doctor Shabaaz Mughal and physio Geoff Scott, who were instrumental in saving the life of Bolton's Fabrice Muamba after he suffered a cardiac arrest on the pitch at White Hart Lane in March 2012.
"I find it extremely disappointing that two people - a great doctor and a great physio, who saved the life of Muamba were heavily put into question by people with absolutely no experience on the pitch, no experience in the action, no experience in the moment," the Portuguese said.
"I stand absolutely by the decision I took and I stand by the decision that the medical department took following the checks that they made on the player."