Gus Poyet: Sunderland team learning a new style of play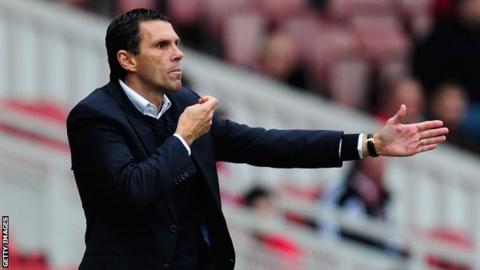 Sunderland manager Gus Poyet has asked for patience from the club's supporters during games as he encourages a new possession-based style of play.
The Uruguayan has won two and lost two of his four games in charge since succeeding Paolo Di Canio as manager.
On Tuesday his side
"Winning was important, yes, but more important was how we did it. We need everyone's patience because the players are playing a different way," he said.
"I want the team to learn to be calmer, to pass the ball better. It is going to take time to get this way of football going but trust me, the fans will like it in the end."
Last season Sunderland finished 17th, one place above the Premier League relegation zone.
The year prior, they were mired in a relegation battle when who led them to mid-table with 45 points.
"Whatever style has been used here for the last two years has not worked well because the club has just done enough to not be relegated," Poyet told BBC Newcastle.
"I know the fans want us to come out flying and score in the first five minutes of the game, but that is not going to happen. We have the players here to pass the ball and retain possession and that is what I am wanting them to do."