FA Cup: How Biggleswade got ex-QPR man Shabazz Baidoo
By Chris Osborne
BBC East Sport
Last updated on .From the section Football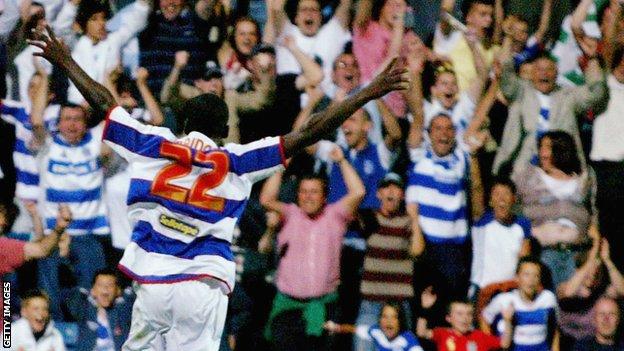 When a guy who runs a burger van is touting you to Biggleswade Town, the days of scoring goals in the Championship can seem a long time gone.
Shabazz Baidoo, a QPR prospect turned non-league part-timer, will play in the proper rounds of the FA Cup for the first time in almost eight years when the Waders go to
And none of it might have happened if it was not for a half-time caterer becoming a short-lived football agent.
"Nick the burger man phoned me up this summer. His exact words were, 'gaffer, I've got a player here who played for QPR'," recounted Biggleswade boss Chris Nunn, a cardboard box salesman by day.
"I was like 'yeah, yeah, yeah, whatever. What's he want? Free burgers?'
"I had a look around. There he is on YouTube banging in goals for QPR. And you know what? He's an absolute joy.
"I pointed out that there's no free burgers, which distressed him slightly, but he was impressed with the facilities we've got.
"If you had said to me when I started here seven years ago I would be signing a lad, pretty much in his prime, who scored goals in the Championship, I'd say things you wouldn't be able to use."
Baidoo's story is less about a talent unfulfilled, and more a study of a man who, in the face of a generation desperate to become the next Wayne Rooney, did not want football to be the focus of his life.
"I never wanted to put all my eggs in one basket. As you get older you realise football is up and down," said the 26-year-old, who has overcome a hamstring injury to be available for the weekend's first-round tie.
"I was 17 when I made my debut in the Championship. I look back at it and sometimes I think - 'too much too soon'.
"I was happy. But when you get older you realise you've got to enjoy life as well as playing football. I was always cautious."
Baidoo, brought up in north London, was in the Tottenham youth system by the age of seven, before moving on to Arsenal and then QPR, where he scored four goals in 33 senior games between 2004 and 2008.
The striker did not find football all consuming though, deciding, while still playing, to pursue business interests.
Namely trading cars, and even making a buzz for himself in the London grime scene - a genre of music that, among others, influences the work of Dizzee Rascal and Tinie Tempah.
"I was concentrating on life outside of football. While I was at QPR I was setting things up in case it didn't work out," he said.
"With the music, because you don't put too much into it you're not expecting too much out. Some of my friends make a living out of it. They're not massive, but they do get a living out of it.
"It's the same as football. How many people want to be footballers? How many make it?"
Spells at Dagenham & Redbridge and Lewes followed and then, when still only 21, football became more of a hobby, moving around non-league outfits like Croydon and Wealdstone.
Then, this summer, Biggleswade - a Bedfordshire club attracting average gates of 186 in a town of 16,000 people - came calling courtesy of a tip off from a burger vendor.
The discipline of the professional game, the fitness tests and strict diets of the modern footballer, were a far cry from what would greet Baidoo when he rolled up at Langford Road.
Think less post-match ice baths and recovery drinks in the physios room, and more cans of lager and fast food on the coach home.
"They love a beer. More than normal," Baidoo explained.
Surely not. Gaffer?
"I like a beer. I can't lie. I go for a beer every Friday, and if the wife is reading I probably only have a couple," Nunn confirmed.
It is a relaxed approach that has worked. Nunn saved the club from relegation in his first season and has gone on to take them from the ninth tier of English football to the Southern Premier, one league below the Conference South.
"The reason it's different is it's more like a family unit," said Baidoo.
"There's a lot of people from around that area and they all seem to know each other - they've been around each other for a long time.
"To be honest, I did expect this team to do something special. And so did the manager because of what sort of players we've got."
A journey to Stourbridge may not set the heart fluttering as if it were Wolves at Molineux or Sheffield United at Bramall Lane, but it offers a realistic prospect of beating a team just nine places above them.
Baidoo's Championship experience will hold him in good stead when it comes to the anticipation of FA Cup first-round day, but what of Nunn's other charges?
"You don't get chance in non-league football to think about it much. We've all got jobs," he said.
"I've got to sell cardboard boxes, Shabazz has got to write some music and sell some cars. But, as corny as it sounds, we're living the dream and we don't want to wake up."