Stourbridge boss Gary Hackett says FA Cup romance can wait
Last updated on .From the section Football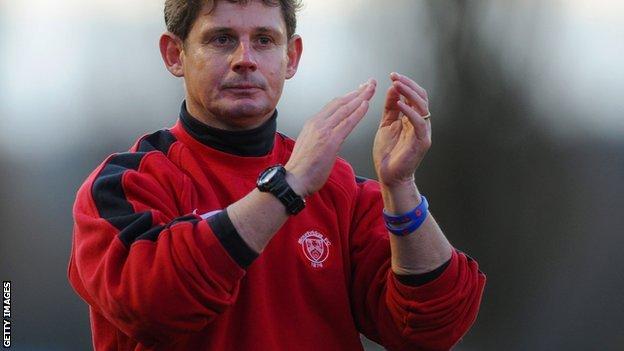 Stourbridge boss Gary Hackett says FA Cup romance can wait as the club try to emulate their "greatest moment".
Fellow Southern League Premier Division club Biggleswade Town make their debut in the first round proper against the Glassboys on Saturday.
Hackett is hoping for a second round return after getting past Plymouth to reach it for the first time in 2011.
"You can look at the romantic side of pulling a big name, but our aim is to go as far as we can," he said.
"We have an opportunity against Biggleswade and I'm sure they will be thinking the same. Both clubs can stamp a mark on the Cup on Saturday.
"We have been there before when we beat Plymouth, and that day and night will live forever and we want more of it."
Stourbridge have qualified for the opening round of the FA Cup in three of the past five years, after ending a 133-year wait with a home derby against Walsall in 2009.
Biggleswade's wait has not been that much longer, with their debut coinciding with their 140th anniversary.
The Glassboys may not exactly be the most seasoned of Cup contestants, but Hackett feels their relative familiarity with the competition and home advantage will count for a lot at the War Memorial Ground.
"Sometimes the game can become too big or it can become too much, and we know that," Hackett told BBC WM.
"The advantage is that we have been there before and it is all about steady nerves."