Aaron Ramsey: Arsenal's Welsh Gunner finally finds his feet
By Saj Chowdhury
BBC Sport
Last updated on .From the section Football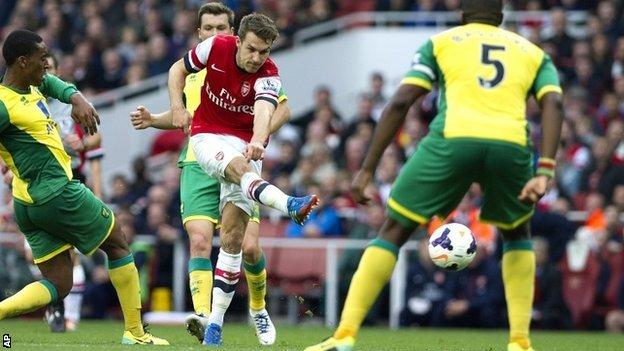 Sir Alex Ferguson had an enviable record of acquiring young talent at Manchester United and developing them into world beaters - Cristiano Ronaldo, Roy Keane and Wayne Rooney were three who benefited from his nurturing.
In snubbing a career at Old Trafford for tutelage under Arsene Wenger, Ferguson wrote in his autobiography that the Wales midfielder had made "the wrong choice".
Wenger and his young Gunner will disagree. The 22-year-old has scored 11 goals so far in all competitions for Arsenal, who have a clear lead at the top of the Premier League and are challenging strongly in the Champions League.
And this Sunday, the Welshman, who won September's Barclays Player of the Month award, will be looking to further irk his fellow Celt when Arsenal travel to United - who sit a surprising eight points behind their old foes.
Ramsey is in football utopia - but will no doubt thank Wenger for keeping faith with him during recent darker times.
In February 2010, the midfielder was at his lowest ebb when he was sidelined for nine months after fracturing his right tibia and fibula in a challenge with Stoke defender Ryan Shawcross.
He returned to action in late 2010 with short-term loan spells to Nottingham Forest and then Cardiff before Arsenal recalled him - but while his physical strength returned the mental rehabilitation took longer, which the player suggested affected his performances during the 2012-13 campaign.
Criticism last season came from his own supporters, including celebrity fan Piers Morgan, who tweeted in December 2012: "What DOES Wenger see in Ramsey? A complete and utter liability." A few days later the midfielder signed a new long-term contract.
"To get over that kind of injury takes a year - probably a bit longer," the Caerphilly-born player said earlier this season.
­"You must keep believing and working hard, and it just feels, all of a sudden, that it clicks into that bubble and you are full of confidence."
Wenger, at his sagest, added: "There is a basic rule in the game that if you have a big injury before the age of 20 you come back and redevelop completely normally.
"I was not too worried but you never know how deep the impact is psychologically. He had a little resistance to go into the fights for a long, long time - but now he is over it."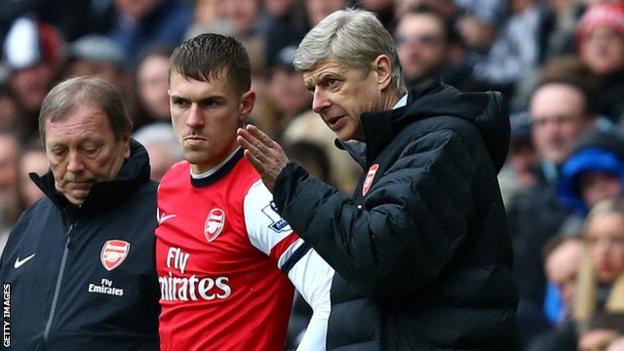 Wales assistant coach Kit Symons told BBC Sport he never doubted that Ramsey would not bounce back from the injury.
"He has made tremendous progression," said the former Wales defender.
"I think he's always been a top player. He moved to Arsenal and got himself going and then had a really bad injury. Like he said, it takes a while to get back from big injury - it knocks your confidence.
"The fact he's come through difficult times makes you stronger and better for it. As a footballer he's more rounded and able to deal with situations because he has come through tough times. It's made him better for it - I'm convinced of it."
Ramsey's "improvement" is backed by statistics:
| 2012-13 season | 2013-14 season |
| --- | --- |
| Games: 36 | Games: 10 |
| Goals: 1 | Goals: 6 |
| Shooting accuracy: 40% | Shooting accuracy: 72% |
| Passes: 1,934 | Passes: 731 |
| Dribbles: 77 | Dribbles: 34 |
| Tackles: 71 | Tackles: 46 |
More Premier League goals in the 10 games he has played this season than he did in the 77 appearances during the previous three campaigns.

Shooting accuracy is up at 72% compared to 40% last season.

Already made 46 tackles in the league compared to 71 during the entire 2012-13 season.
The Wales international, who has played out wide, now scores regularly from central midfield, has increased his tackling and is excelling in the 'number eight' position, which was seen as Jack Wilshere's more suited role.
"There's competition in that Arsenal midfield," added Symons. "But anybody who has notched that number of goals from midfield, you cannot leave them out.
"If you have a 'number eight' that scores that many then they are worth their weight in gold. There aren't many midfielders of that ilk that can do what Aaron is doing."
The superlatives have been spilling out of the mouths of football's most learned this season, with Match of the Day pundit Alan Hansen likening Ramsey to the great Zinedine Zidane, following his showstopping performance in the 4-1 win over Norwich.
That was the trigger for users of social media to rage against the ex-Liverpool player's suggestion, but there is no doubting that some of Ramsey's use of the ball this season has been other worldly.
"Ramsey just shows how difficult it is to have assessment on any player," Wenger said after the midfielder scored the winner against Borussia Dortmund on Wednesday.
"One year ago everyone said he can't score. He's in the box in right positions but he can't score. This season he scores in game after game.
"I was always positive with him. When you watch his games he was always in situations where he could be dangerous. This season he has the confidence and he has an unbelievable engine to get from box to box. His ability makes him a dangerous player."
On Sunday, Ramsey will again want to prove to the Premier League champions that he made the right choice.