Roy Hodgson: England spirit 'outstanding' despite row
Last updated on .From the section Football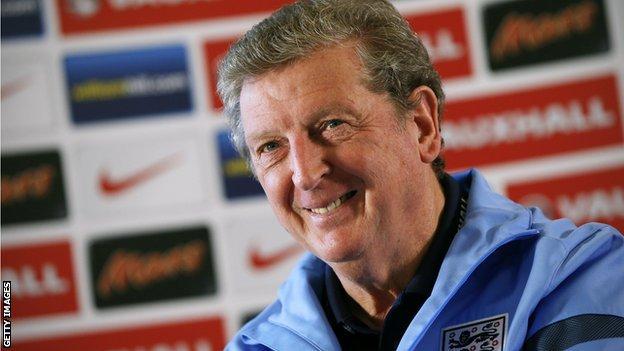 Roy Hodgson said the mood in the England squad is "outstanding" as he tried to move on from the "space-monkey" joke that triggered a race row.
But he insisted: "I've rarely worked with a club side with a better spirit.
"It was an innocent remark which has been misconstrued."
Hodgson was reported to have told the joke when trying to explain to right-back Chris Smalling that he needed to pass the ball to winger Andros Townsend more often.
The journalist who broke the story said that at least one England player had been upset by the joke.
But former Liverpool and Inter Milan manager Hodgson is not convinced a member of his squad leaked the story to the media.
"No-one has yet proved to me that it came from the dressing room," he said, adding he was "disappointed" the story had been made public.
"It is over as far as I am concerned," said Hodgson, ahead of Wembley friendlies against Chile on 15 November and Germany on 19 November.
"My thoughts are purely on these two matches and the World Cup matches ahead," he said.
But he admitted the race row had been an unwelcome distraction.
"It's happened and if you are asking if I'm happy it's happened then, no, I am not," he said.
"Have I learned these days that something said so innocently can be so badly misconstrued and cause as much pain as it did to so many people? Yes, I have learned that lesson."