Newport boss Edinburgh anger at losing Robbie Willmott appeal
Last updated on .From the section Football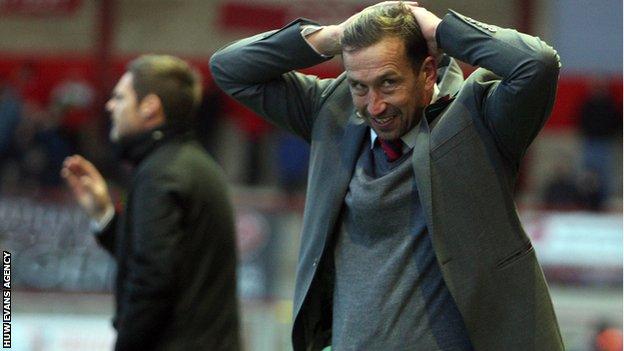 Manager Justin Edinburgh says he still believes Robbie Willmott's red card was wrong despite
A Football Association Regulatory Commission ruled it was not a case of wrongful dismissal.
"I have watched the game again, watched the incidents, and I stand by what I feel and that we were hard done by," said Edinburgh.
The County boss was also critical of the performance of referee Andy Haines, who sent Willmott off in the fourth minute.
"I can only praise my players but they were overshadowed by an inadequate performance by the man in the middle," Edinburgh added.
"I would have been confident... if it had been football people on the panel.
"I was confident they would see it wasn't deliberate handball and that the referee had 100% got it wrong and it would have been overturned.
"But I don't know who sat on the panel, obviously they weren't football people.
"Not only did it cost us a player... but another player for this week for an important [FA] Cup tie and it cost us the game."
Wilmott will be suspended for one match and will miss Saturday's FA Cup first-round tie at Braintree Town.
Newport did have their own penalty at Fleetwood, scored by Chris Zebroski, but straight after the match Newport boss Edinburgh disputed the red card.
"I've got to be careful how I say this, but I think the man in the middle [referee Haines] has stole the show from us really," said Edinburgh straight after the game.