Igesund explains Serero absence from Bafana friendly
Last updated on .From the section Football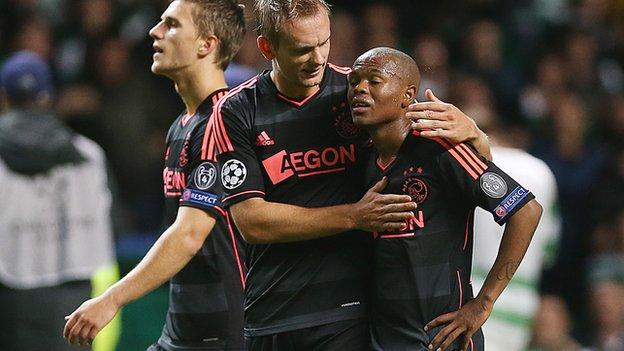 South Africa coach Gordon Igesund said he has patched up the rift with midfielder Thulani Serero but he surprisingly left the Ajax player out of the squad for this month's prestige friendly against Spain.
Igesund said he had talks with the player and his agent since kicking Serero out of the squad on the eve of September's World Cup qualifier against Botswana and the issue is now resolved.
At the time, Igesund alleged the player did not want to play for Bafana Bafana in Durban because he did not want to risk injury with a Champions League match against Barcelona only days away.
"I had a telephone conversation with Thulani and I also have spoken to his advisers. The issues have been resolved," Igesund told reporters in Johannesburg on Thursday when he named his squad for the match at Soccer City on 19 November.
"He is fully committed to the national team, but wants some time to get 100% fit and ready to fight for his place.
"He is a young man and made a mistake, and I will certainly not hold any grudges."
But Igesund's assertion Serero needs time to get fit drew criticism from the South African media on Friday, particularly after a stellar performance by the 22-year-old on Wednesday night when Ajax beat Scottish side Celtic in the Champions League.
Although Serero was taken off late in the game at the Amsterdam Arena, he showed little signs of ring rustiness as he played a pivotal role in the Dutch side's quick passing game and laid on the game's only goal with an audacious back heel in the Celtic penalty area.
"There are still too many holes in the Serero story," wrote The Star newspaper on Friday, "with critics entitled to wonder how a player that can play most of a Champions League match in midweek is not completely fit."
Serero's camp denied he sought to put club above country, always a sensitive issue for African internationals, although the player himself has not spoken publicly on the matter.
Igesund had support from other national team staff members who said Serero had feigned injury by claiming a tightness in his muscles so that he would be left out of the Botswana game with an eye on playing in Barcelona.
Soweto-born Serero has a history of injury setbacks during his time at Ajax, but this season has finally made a breakthrough and is a regular starting choice.
Ironically, however, he was only used as a substitute in the Group H tie at the Nou Camp after the Bafana expulsion but Ajax face Barcelona again on 26 November - only seven days after the Spain match.
South Africa's friendly against Spain is being billed as the return for the world champions to the site of their 2010 World Cup triumph.