Former Hearts defender plots UK return after China stay

By Brian McLauchlin
BBC Scotland
Last updated on .From the section Football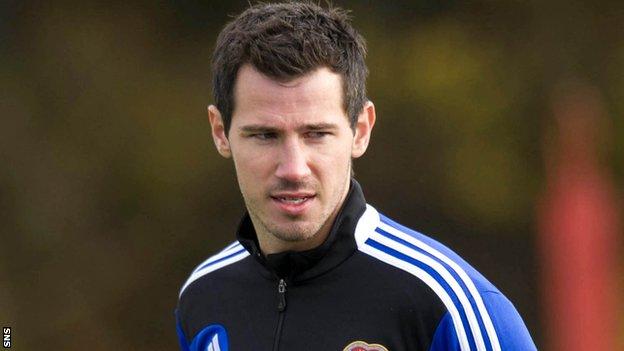 Former Hearts defender Ryan McGowan intends to find a club in the UK when his contract expires at Chinese club Shandong Luneng Taishan.
The 24-year-old Australia international has 12 months remaining on his current deal,
"After my contract ends I'd like to come back to the UK," he told BBC Scotland.
"I'll be 25 then and I'd like to come back to Europe. Once my contract runs out then I'm a free agent."
McGowan he will look fondly back on his time in China when he does move on.
"It's been a thoroughly enjoyable season and it's gone quite quickly since I left in January," he said. "It's a different experience to what I was used to in Scotland but something that I've really enjoyed.
"The standard of the league is growing every year. Being a foreign defender is maybe a bit more difficult than being a foreign striker.
"Every team is allowed five foreign players and most of the teams pick four attacking players. Every week you're playing against quality players who have come from good leagues or who have good pedigrees.
"It's a totally different style of football to what I'm used to which is a good thing."
McGowan described football in China as akin to "a sleeping giant".
"Every stadium you go to is world class and it's only a matter of time before it becomes a huge nation; they have plenty of money and are really keen to bring in good players," he said.
"Two hours before kick off the stadium is full; everybody is in their seat and there's entertainment. They pull people from the crowd to come on the pitch and it's almost like once we arrive, that's the sideshow!
"They really make it fan-orientated and, with it being in the summer, the weather's really good.
"We average about 35,000 every game and we get up to 50,000 when we play the bigger teams. And you only play teams once home and away.
"Maybe coming to China in the first place wasn't my preference but the way things were going at Hearts, and my contract situation, [coming here] was the best thing at the time.
"So, I jumped into it with two feet and tried to enjoy it as best I could. I love everything about it; I love the football culture and everyone lives and breathes the game."
So, would McGowan consider returning to Tynecastle before the end of his career?
"Never say never, obviously it's a great club," he responds.
"They've done so much for me and were my first professional club, bringing me over from Australia when I was 16.
"If I can do things down the line to help out then I'm always willing to do so."