Truro City boss Steve Massey 'never lost faith'
Last updated on .From the section Football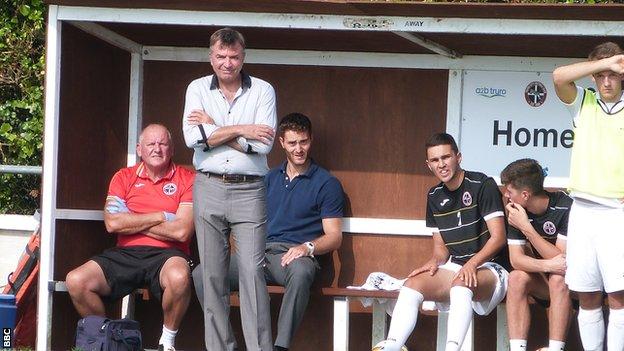 Truro City boss Steve Massey has said he was always confident that his team would rediscover their form.
The White Tigers beat Hitchin 3-2 last weekend to follow their success against AFC Totton, giving them their first back-to-back wins in 14 months.
"On the inside we always knew the results and performances would come," he told BBC Radio Cornwall.
"Performances got better and results are starting to back that up now. It's nothing I wasn't saying in pre-season."
Massey said the club's slow start to the Southern League Premier Division season was largely down to playing too many inexperienced players at the same time.
"Don't forget we were having to play a lot of these youngsters that were playing step six and seven level football last year and playing them all together - and that was never the intention," said Massey.
"But because of injuries, unavailability and suspensions of the senior core, we had to do it.
"The team always evolves during those first few months as it still does now - we still haven't finished and want to get better and better as the season goes on."
Truro saw their match against Froome Town postponed on Tuesday because of a waterlogged pitch, and Massey admitted he was disappointed that his players did not have the chance to extend their winning run.
"We're on a bit of a roll and confidence is rising, and of course we wanted the games to come thick and fast," he said.
Truro will be back in action on Saturday, but they will face a much more difficult test to keep the winning run going against league leaders Chesham United.
"It doesn't come any tougher," said Massey.
"But we're really looking forward to it and we've targeted it as a yardstick to see how much we've improved and I hope the fans come and really cheer us on as they have in the last few weeks.
"We'll give them one hell of a game."