Uefa charges Ajax over offensive banner
Last updated on .From the section Football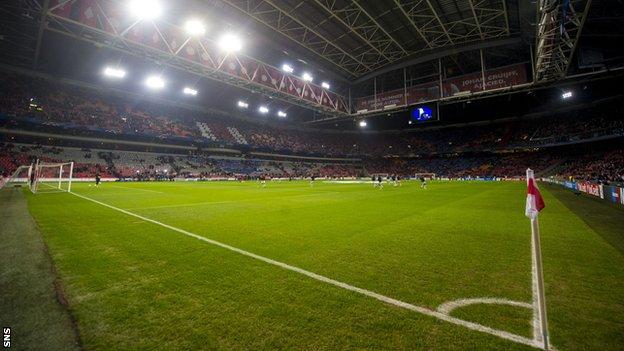 Uefa has opened a disciplinary case against Ajax for discriminatory behaviour of their fans at Wednesday's Champions League match against Celtic.
A banner displayed by fans of Netherlands' champions at the Amsterdam Area was reported by the football governing body's security delegate.
Celtic said they had been informed by Uefa's security officer it had been reported with photographic evidence.
The case will be heard on 12 November by Uefa's disciplinary body.
On Friday, Uefa initially told BBC Scotland that no proceedings had been opened against Ajax and the governing body had no plans to pursue the matter.
A Uefa spokesman said: "There have been no complaints received and the matter was not mentioned in any of the officials' match reports."
Fans of the Glasgow club posted images of the banner on social networks during Wednesday night's 1-0 defeat and Celtic said the report by Uefa's security officer was "in addition to complaints submitted by Celtic supporters who were understandably deeply offended".
Celtic manager Neil Lennon said he is disappointed but not surprised by the violent scenes surrounding Wednesday's Champions League match in Amsterdam, given what he called the "culture of Ajax fans".
"If there was a reaction from Celtic fans, it was because there was immense provocation in the first place," said Lennon.
Lennon also said that, in the 13 years he's been at Celtic as a manager and as a player, the fans have been "exemplary" and "a credit to the club".
Last month, Uefa opened a disciplinary case against Ajax following the behaviour of visiting fans during the Glasgow leg of their Champions League encounter with Celtic.
Dutch supporters clashed with stewards following Celtic's first goal in a 2-1 win for Lennon's side and there were reports of the visiting fans ripping up seats and throwing them into the home sections.
That case will be dealt with by Uefa's control and disciplinary body on 21 November.
In March last year, Celtic were fined £21,000 by Uefa for fan-related incidents during their Europa League match against Udinese in December 2011, including displaying of a banner that criticised European football's governing body.