Hall leaves Azam and alleges Tanzanian league is fixed
By Emmanuel Muga
BBC News, Dar es Salaam
Last updated on .From the section Football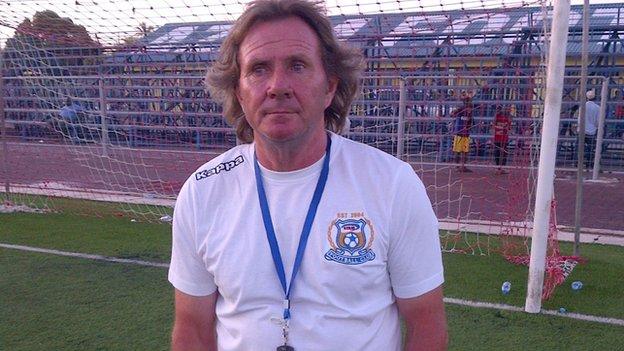 England-born coach Stuart John Hall has parted company with Azam FC and alleged the Tanzanian league is rigged in favour of the country's two top teams.
"The Tanzanian football is organized in favour of two teams, Simba and Yanga," Hall told BBC Sport.
"Fixtures, refereeing, administration are all rigged to favour them, that's why Azam has failed to topple them."
The Tanzania Football Federation (TFF) officials were not readily available to comment on Hall's allegations.
However, there have been instances in the past where match officials were penalised for their conduct in matches involving Simba and Yanga.
Hall came to Tanzania in 2010 first as coach of the Zanzibar national team before crossing to the mainland the same year to take charge of star-studded Azam.
Despite finding a team with star players recruited from around the region and money to spend he failed to win the Tanzanian league, only managing to finish as runners-up twice.
With the league in round two now, Azam is second behind Yanga and questions have been asked about the timing of Hall's departure from the club.
But Hall said: "It was a mutual agreement that I leave, and it was my decision to finish only round one of the league,".
He added that he had received a new job offer from "elsewhere".
Azam were founded in 2007 and made their premier league debut a year later with high ambitions of conquering the country, the region and ultimately the continent.
The club embarked on a recruitment spree of players and coaches, buying star national team players from Uganda, Kenya, Rwanda, Burundi and Ivory Coast.
They also experimented with foreign coaches as they aspired to greatness, making Hall the fourth foreign coach to have coached the ice cream makers.