Rowan Vine cited over Neil Lennon Twitter comments
Last updated on .From the section Football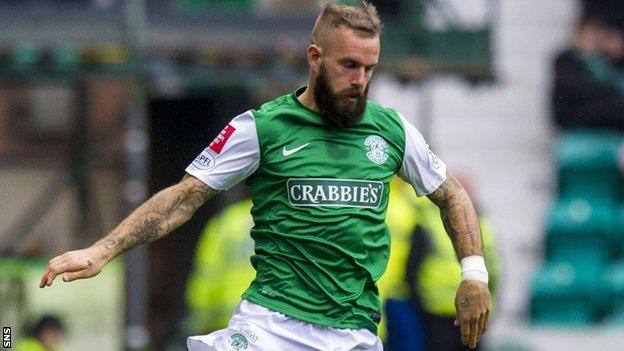 Hibernian forward Rowan Vine faces disciplinary action after .
Scottish FA compliance officer Vincent Lunny says Vine made "offensive comments on Twitter suggesting the use of violence".
The incident took place following between Hibs and Celtic.
Vine has until 15 November to respond to the notice of complaint and a principal hearing date has been set for 28 November.
Lennon, who said he was "not surprised" that Vine had been cited for his comments, had criticised Hibs' defending as "shocking" and "reckless" in the draw at Easter Road.
Responding on Twitter, Vine said: "I hardly touched the boy and there were no 'reckless' tackles in the game.
"Might get me mate Alan Shearer to send him another size 9 Umbro Speciali in the dish if he don't pipe down."
Vine went on to admit that he had never met the former England captain, nor Lennon, personally despite his reference to an incident during a Newcastle-Leicester match in 1998.
Responding to a tweet from Lennon asking "did I read that right?", Vine replied: "Was light-hearted, just thought your comment was poor, thought it was a good physical game.
"Apologies obviously if you've taken offence."