Kilmarnock's Rabiu Ibrahim aims to prove 'I am still alive'
Last updated on .From the section Football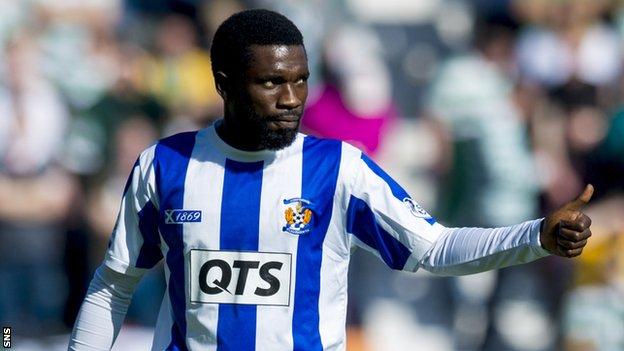 Rabiu Ibrahim has appealed to Kilmarnock manager Allan Johnston for game time to prove to people back in his native Nigeria he is "still alive".
"It will make people back home know that I'm fine, that there is no problem and I am still playing," said Ibrahim.
"I would appreciate that. My family have been a little bit worried even though we speak on the phone."
Ibrahim thinks his family might have thought he had been masking the real seriousness of his series of hospital tests.
"In the game, I felt like I had a slight headache," said the midfielder, who is hoping for at least a substitute appearance against St Johnstone at McDiarmid Park on Saturday.
"I remember sitting down before lying down. The official said he was speaking to me and I didn't reply.
"Afterwards, they asked me some questions and I answered some of them. I had some tests and everything was okay. They couldn't find anything.
"I had an MRI scan and a machine they put on me for 24 hours and it was all okay.
"The doctor called me on Wednesday and told me everything was okay and I could go back to training.
"It's a relief. I feel very happy and excited. To be back in the team and to see the players was a very good feeling for me."
Ibrahim, though, insists he never feared his playing career was over.
"I wasn't worried because I knew nothing was wrong with me," he said. "It just happened. I was okay before the game.
"I wasn't ill or anything and I don't know why it happened. But I wasn't worried. I was just waiting for the results and I knew the results would be in my favour."
Johnston is delighted that Ibrahim has been given permission to start playing again.
"It takes a lot of pressure off him," he said. "He must have been stressed out with the health scare, but he's fine and he's back in the squad.
"He's a good player and it's good to have someone of his quality back in the squad.
"You can never be too cautious with stuff like that, so we are just delighted he has been given the all clear."