Jose Mourinho: Chelsea's penalty against West Brom clear
Last updated on .From the section Football
Chelsea manager Jose Mourinho insisted the controversial late spot-kick from which Eden Hazard earned a 2-2 draw with West Brom was a "clear penalty".
Baggies boss Steve Clarke was outraged by Andre Marriner's decision to penalise Steven Reid for a collision with Blues midfielder Ramires.
But Mourinho told BBC Sport: "I have watched it two or three times and it was a clear penalty.
"The referee made many mistakes during the game but that was not a mistake."
He added: "It is always a difficult situation to accept for the team that is winning, but when they go home they will see on their screens that it was a situation where the referee did not make a mistake."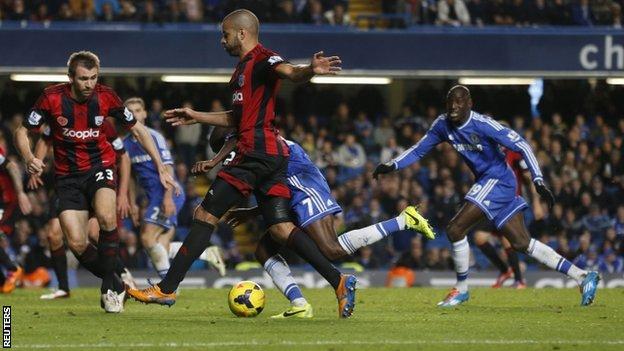 The pivotal moment arrived in the last minute of stoppage time when Ramires's rampaging run took him deep inside the Baggies' box.
With Reid closing in, Ramires appeared to lean towards the former Republic of Ireland international and went to ground upon contact.
"The boy went into the box, he went down looking for it and the referee obliged him," argued Clarke.
"The atmosphere at the bigger stadiums when you go away from home can influence decisions, but I think the decision today was particularly galling.
"It is ridiculous to have to take it because it wasn't a penalty. That's five points my team have lost because of late decisions on penalties.
"I'm sad and I'm angry but I'm also very proud because we were magnificent today.
"This is a difficult place to come. Chelsea are one of the teams that are going to fight for the title. We suffered a disappointment losing the goal before half-time and in the second half we were really good and deserved all three points."
Marriner's decision was disputed by West Brom's players before Hazard calmly sent goalkeeper Boaz Myhill the wrong way to keep Mourinho's unbeaten home Premier League run intact.
The Portuguese manager said the goal was just reward for Chelsea's response to West Brom's second goal, which he believed should have been disallowed due to a foul on Branislav Ivanovic in the build-up.
"It should have been a clear free-kick against West Brom when they scored the second goal," he said.
"So I have reason to be very upset with the referee's work. I believe he is a great referee, one of the best in European football, but he had a very unhappy game today.
"It was dramatic because the home team was losing and in the last 15 minutes our reaction was very strong.
"We put everything into the game to try to score and at least not to lose. In the end, it was even more emotional than technical and tactical."