Martin Jol: Fulham manager deflated by Liverpool thrashing
By Ben Smith
BBC Sport at Anfield
Last updated on .From the section Fulham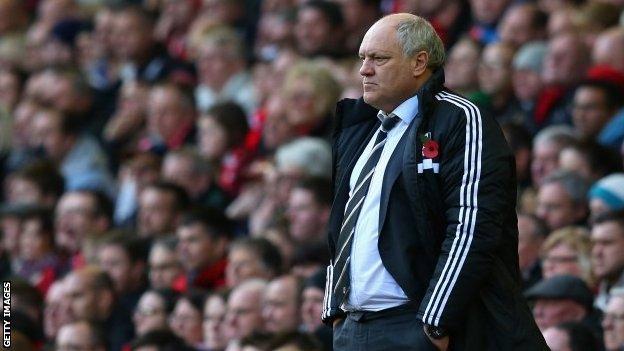 Austin Powers actor Mike Myers may have been at Anfield on Saturday, but no-one in the white of Fulham was laughing.
Following their 4-0 defeat by Liverpool, their players trudged off at the final whistle, shoulders drooping, heads bowed. They made for the tunnel at Anfield and the sanctuary of the dressing rooms. But assistant manager Billy McKinlay blocked their path, ushering them towards the fans who had endured this capitulation.
Martin Jol had gone. The Cottagers manager had spent much of the afternoon glued to the plastic red seat in the visitors' dug-out, clasping his face in his hands, scratching his head.
There was some sense of energy and purpose from the Dutchman and his team in the opening 25 minutes but two goals in three first-half minutes opened the floodgates. From that moment on, he remained firmly in his seat as Liverpool simply blew his team away.
This was a chastening afternoon for Fulham and their manager, a proud man whose will to win has never been in question. And yet at the final whistle, all eyes were, once again, focused on him.
Jol cut a strangely calm figure in his post-match news conference as he was peppered with questions on his future and whether he still has it in him to lead this Fulham team to safety. His arms were crossed throughout, his voice was calm, his answers considered.
And yet there was a sense throughout that his mind was elsewhere - perhaps replaying the defeat, perhaps considering his next move or a call from the owner.
What had he said to his players at half-time? "Same as last week," he said.
"We like to get the results against the Crystal Palaces and the Stokes and the Sunderlands," he added. "Against Man Utd and Liverpool, teams with that sort of strength and quality you hope for a result - so this defeat, it's not the end of the world."
It was a strange answer from a manager who looked on auto-pilot. One that supporters will find hard to understand. Did he still have the fight to carry on? Yes, he said. Was he getting the best out of his players? Yes, he said. Did he still believe he was the man to lead Fulham forward? Yes, he said. The answers were vague and general. There were no bold statements, no strong declarations, just words.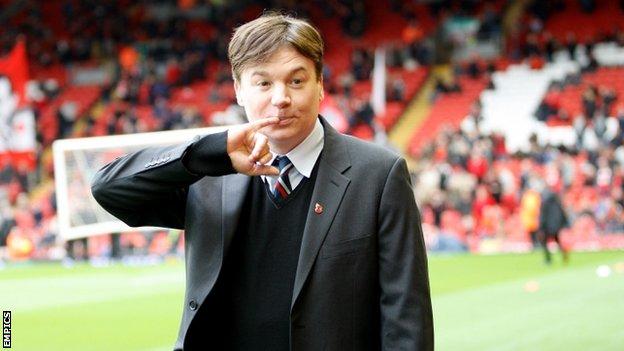 Jol has been one of the favourites to lose his job throughout the season but at Anfield the pressure increased again.
John Hartson, the former Arsenal and Celtic striker, described Fulham's performance as "absolutely shocking". Steve Claridge, another BBC pundit, added: "It is staggering watching Fulham. They look like they have a manager who is waiting to lose."
On social media, Fulham fans spoke with one voice. "Fulham are a sinking ship. Jol won't be there come December," said one. Another added: "Jol has to get sacked. Fulham are atrocious." It was brutal stuff.
There was more criticism for the likes of Dimitar Berbatov, who did not do enough to even classify his performance as peripheral at Anfield. The Bulgarian striker left the field with seven minutes remaining to boos and jeers from the Liverpool fans and apathy from the Fulham supporters. There was no glance towards Jol as he stepped off the field, no words were exchanged. Nothing.
Jol has indulged Berbatov and his undoubted talent this season but has seen very little in return. When asked why Berbatov had once again been so below par, Jol said his striker had been isolated. And yet it had been the Dutchman who had selected him to play as a lone striker.
The international break will provide Fulham with an opportunity to consider the future and make a decision that is in the best interests of the club and its manager. The club's chief executive Alistair Mackintosh is renowned as one of the most balanced and thoughtful in football.
He has shown faith in Jol before, even when the manager's relationship with Fulham became strained towards the end of Mohamed al-Fayed's ownership of the club. Shahid Khan's takeover prompted an uneasy truce. What is now unclear, however, is to what extent Jol's masterplan, his ambition, his capacity to revive this club remains intact. Only the man himself knows that, but times are tough at Fulham.
As Myers left Anfield surrounded by autograph hunters after a day he will always remember, he might have spared a thought for the manager who had endured an afternoon to forget.
The chances of Jol enjoying a Hollywood-style happy ending appear to be fading by the hour.