Amy Fearn becomes first woman to referee FA Cup game in main draw
Last updated on .From the section Football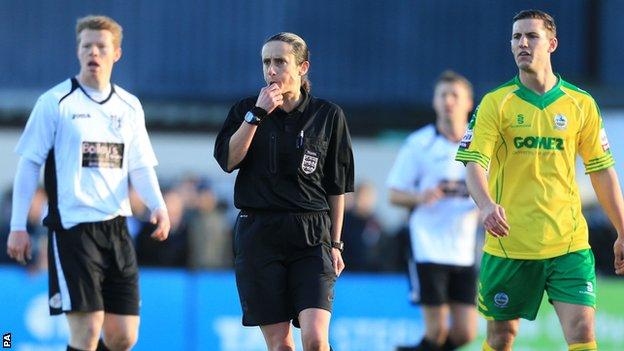 Amy Fearn has become the first female to referee an FA Cup game in the main draw in its 142-year history after taking charge of Dover's first-round victory at Corby.
The match at Steel Park was the second landmark achievement in Fearn's career.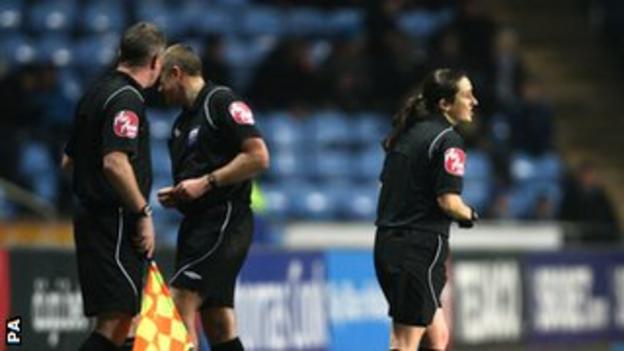 In February 2010, she became the first woman to take charge of a Football League fixture.
Fearn, 35, made the record books after stepping up from her role as senior assistant to replace the injured Tony Bates with 19 minutes to go in Coventry's 1-0 Championship win against Nottingham Forest.
She also came to prominence in February 2007 after then Luton boss Mike Newell was fined £6,500 by the Football Association over his comments regarding her performance as an assistant referee in the previous November's match against Queens Park Rangers.
Fearn currently officiates in the Conference.
On Saturday, the accountant oversaw a tie in which second-half goals from Nathan Elder and Chris Kinnear were enough to see Dover triumph despite a late Chris Carruthers consolation effort for their Southern League Premier Division opponents.
Fearn will not be able to progress to the third round of the FA Cup as only referees on the national list are allowed to take charge from that stage.