Arsene Wenger: Arsenal can match Man Utd's 1992 youngsters
Last updated on .From the section Football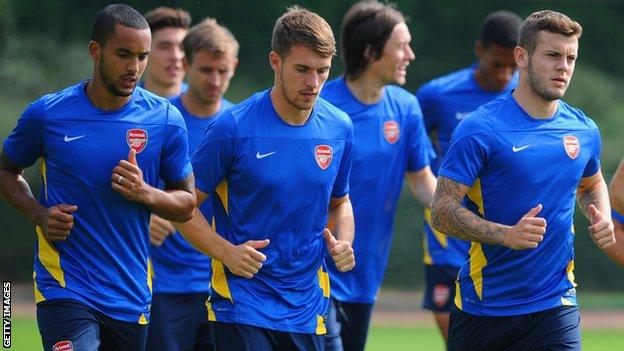 Arsenal manager Arsene Wenger believes his side's core of young players can prove as successful as Manchester United's famous 'Class of 1992'.
"United had an exceptional group together - the two Neville brothers, David Beckham, Ryan Giggs, Paul Scholes, Nicky Butt," Wenger said.
"I would say this group is as successful as Manchester United's group of players were."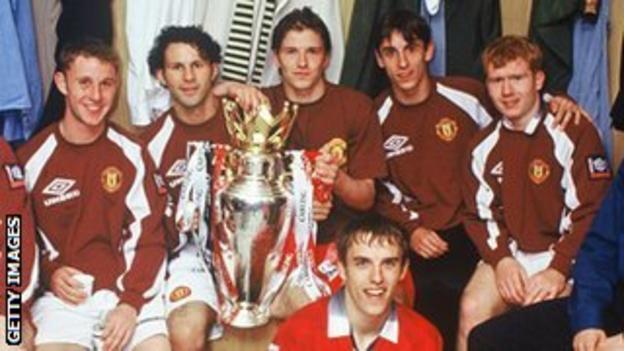 He added: "We have to show that and we have an opportunity to do that - no-one can stop you if you have quality and attitude."
Former United boss Sir Alex Ferguson's 'Class of 1992' won five Premier League titles, three FA Cups and the Champions League before the end of the decade.
Wenger though is confident the likes of Aaron Ramsey, 22, Jack Wilshere, 21, Theo Walcott, 24, Alex Oxlade-Chamberlain, 20, Kieran Gibbs, 24, and 23-year-old Wojciech Szczesny, who came through the youth ranks and is set for a new deal, can help push the Gunners to some overdue success.
Arsenal, who are out for their first success at Old Trafford since 2006, are without a trophy in eight years.
Wenger said: "I believe the sense of belonging is important, and it has certainly been a bit neglected in the modern game - but it is part of the culture of the club, that the club means something to you. That is important for the fans as well.
"I believe in some difficult periods of the season or of a player's career, that feeling that he belongs there is very important - and that can only be built with players growing up together.
"We have today in the team Wojciech, who for me is an Arsenal player because he came here at 15 and has grown up here. Wilshere was 10 when he started. That was always my target."
Welshman Ramsey took his tally to 11 goals for the season with the close-range header which beat Borussia Dortmund in the Champions League, and is developing into the player Wenger hoped he would become when he signed him from Cardiff for £5m in June 2008.
"Just before he had his good period I extended his contract because I believed in him," said Wenger.
"I left him out for a while [last season]. It is always difficult because when people are criticised you think if I take him out straight away he loses confidence, but when you leave a player on he slowly deteriorates confidence-wise.
"It happened to Cesc Fabregas where for a period he could not score a goal. I said 'don't worry, just be in the situations, and once the first goals in [you will be fine]'."