Nigeria U17s receive cash bonus
By Oluwashina Okeleji
BBC Sport, Lagos
Last updated on .From the section Football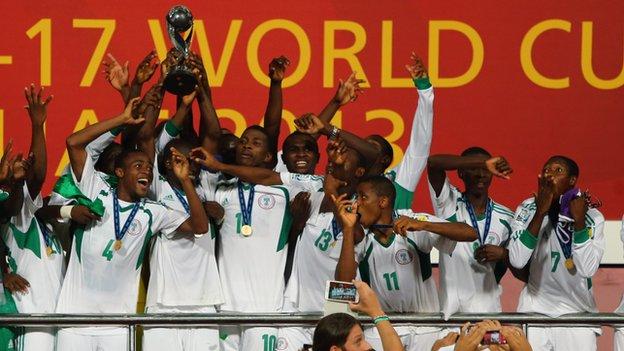 Nigeria president Goodluck Jonathan has rewarded players of the country's Under-17 team with $12,600 each for winning the World Cup.
The Golden Eaglets won the title for the fourth time on Friday after beating Mexico 3-0 in Abu Dhabi.
The president announced a two million Naira ($12,600) reward for each of the players, three million naira [$18,900] and 2.5 million naira [$15,780] for the head coach and his assistants.
Other officials got between 300,000 naira ($1,890) and 500,000 naira ($3,150) each.
President Jonathan also promised he will reward the team handlers with national honours, while calling on the private sector to support him in rewarding the team.
"You won fairly and convincingly and we are very proud of you," President Jonathan told the team at a reception in Abuja.
"This victory is for the whole of Africa and the beginning of a new era in the revival of the nation's competitive spirit.
"Within just seven months, the team has transformed themselves from being second best in Africa to being the best in the world," he added.
Back in 2007, then-Nigeria President Umaru Yar'Adua rewarded players of the country's U17 team with a three bedroom house each for winning the World Cup in South Korea.
The players were also decorated with the Member of the Order of the Niger, one of Nigeria's highest honours, and team officials received the Member of the Order of the Federal Republic medal, another important award in the country.
President Jonathan has also implored the Nigerian Football Federation (NFF) to make sure the players are trained and properly groomed to represent the country at the senior level.
Bu Nigeria coach Stephen Keshi says the U17 players should not be rushed into international football at senior level.
"I will want the players to take the natural route of maturity, play for the U20 and the U23 teams and then we can start looking at them," he said.
"During that period we may find one or two of them that can make impact in the national team and we will not hesitate to invite them."