Robbie Savage: How Man Utd beat Arsenal with so little possession
Last updated on .From the section Football

In his regular BBC Sport column on football tactics, Robbie Savage looks at Manchester United's win over top-of-the-table Arsenal.
It was the sort of game you often get between two of the top teams: tight and tense, rather than open and entertaining - and settled by a goal from a set-piece.

The game was low on quality but, on this occasion, that suited United down to the ground.
Man Utd not passing, or keeping possession
Against the Gunners, Manchester United had the least possession (39.87%) and worst passing accuracy (75.87) of any of their Premier League games this season.
United also played their lowest number of passes (344) in any league game at Old Trafford for seven years, since a draw with Chelsea in a top-of-the-table clash in November 2006, when they played 310.
They played over 200 more passes (532) when they last played Arsenal at home in the league, in a 2-1 win in November 2012.
In fact, there have only been seven away league games since the start of the 2006-07 season where United have played fewer passes than they managed on Sunday.
So the question is, how did they still manage to get their most significant win since David Moyes took charge against the most in-form team in the country, who were fresh from beating Borussia Dortmund on Wednesday and had won 14 of their last 15 away games in all competitions?
United's passing and possession in the Premier League this season

Opposition

Result

Possession %

Passes

Passing accuracy %

Swansea (a)

W 4-1

46.3%

471

83.44%

Chelsea (h)

D 0-0

55.21%

550

84.18%

Liverpool (a)

L 1-0

56.96%

478

82.01%

C Palace (h)

W 2-0

60.38%

556

84.71%

Man City (a)

L 4-1

58.44%

478

86.19%

WBA (h)

L 1-2

59.11%

527

86.15%

Sunderland (a)

W 2-1

62.5%

571

84.06%

S'hampton (h)

D 1-1

46.44%

393

78.88%

Stoke (h)

W 3-2

66.74%

565

88.5%

Fulham (a)

W 3-1

53.05%

517

84.33%

Arsenal (h)

W 1-0

39.87%

344

75.87%

Source: Opta
The changes forced upon Arsenal by the sickness bug that hit their squad played a part. But United boss Moyes got his team selection and tactics spot on.
It was a scrappy game, which is what Moyes wanted. And United scoring first was the key to the game going in the direction he wanted it to. Arsenal are the best counter-attacking team in the country but they could not play the way they wanted to once they were behind.
Sunday's game at Old Trafford started very differently to the way it finished, and it was Robin van Persie's goal that made the difference.
United had 66.4% of possession in the first 10 minutes and 58% after 20 minutes.
But, once van Persie scored after 27 minutes, both teams changed their approach. After that, United were the team playing on the break, and they were happy for Arsenal to have a lot more of the ball. The Gunners had been playing a containing game, but that went out of the window when they needed an equaliser.
By half-time, Arsenal had enjoyed 56% of possession and, in the second half alone, that rose to 64.4%. But the Gunners could not turn that into chances, let alone goals.
Arsenal miss key personnel
Arsenal have made lots of changes in midfield this season without it upsetting their rhythm. This time it did.
Arsenal's midfielders starting Premier League games this season

Opposition

Result

Aston Villa (h)

L 1-3

Rosicky

Wilshere

Walcott

AOC

Ramsey

Fulham (a)

W 3-1

Rosicky

Podolski

Walcott

Cazorla

Ramsey

Tottenham (h)

W 1-0

Rosicky

Wilshere

Walcott

Cazorla

Ramsey

Sunderland (a)

W 3-1

Flamini

Wilshere

Walcott

Ozil

Ramsey

Stoke (h)

W 3-1

Flamini

Wilshere

Gnabry

Ozil

Ramsey

Swansea (a)

W 2-1

Flamini

Wilshere

Gnabry

Ozil

Ramsey

WBA (a)

D 1-1

Flamini

Wilshere

Arteta

Ozil

Ramsey

Norwich (h)

W 4-1

Flamini

Wilshere

Arteta

Ozil

Cazorla

C Palace (a)

W 2-0

Flamini

Cazorla

Arteta

Ozil

Ramsey

Liverpool (h)

W 2-0

Rosicky

Cazorla

Arteta

Ozil

Ramsey

Man Utd (a)

L 1-0

Flamini

Cazorla

Arteta

Ozil

Ramsey

AOC = Alex Oxlade-Chamberlain
Wenger has only started the same set of five players in consecutive Premier League games once - Mathieu Flamini, Jack Wilshere, Serge Gnabry, Mesut Ozil and Aaron Ramsey against Stoke and Swansea.
And the only other time the same five midfielders have started more than once together was at Old Trafford. Flamini, Santi Cazorla, Mikel Arteta, Ozil and Ramsey also played against Crystal Palace last month.
Wenger could not play the same midfield he did when his side beat Liverpool - or Dortmund in the Champions League in midweek - because Tomas Rosicky was ill.
He was able to bring Flamini back into the team instead, and his defensive ability and organising skills might have seemed ideal for a trip to Old Trafford.
The way the game panned out, however, Arsenal needed far more of a creative spark.
They looked unbalanced, with Ramsey forced to play out wide on the right rather than centrally where he has been so effective recently.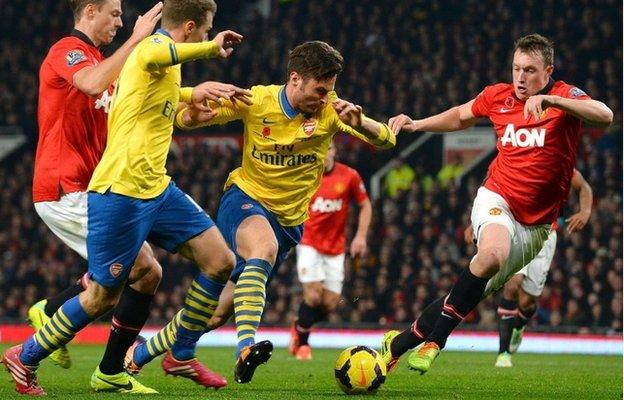 Ramsey was poor and Ozil, who was playing behind Olivier Giroud, was hardly in the game.
All the play was in front of United, with no penetration behind them. Arsenal did not have anybody running past Giroud until Wilshere came on after an hour.
And the only time Arsenal got behind the United defence was when Wilshere burst forward and Phil Jones ushered the ball out.
With Jones starting in midfield, United's team was perfectly set up to stop Arsenal from playing once they had their lead.
Jones ended the game in defence after Nemanja Vidic was injured, but Tom Cleverley came in and worked very hard to deny Arsenal time and space, as did the rest of the United team - including Van Persie and Wayne Rooney, who both covered a lot of ground.
Arsenal's threat in the second half was restricted to two dangerous crosses into the box from their right-back Bacary Sagna.
United hardly created a lot either but they had the better chances, especially when Chris Smalling headed wide from Van Persie's free-kick.
Neither keeper really had much to do and that suited United just fine.
Settled by a set-piece
I am not a fan of zonal marking. If you mark a man then if he scores it is your fault. Zonal marking just allows players to make excuses, because it could be one or two players at fault.
I never played in a team that used zonal marking and, if I was a manager, I would always designate players to be picked up at free-kicks and corners.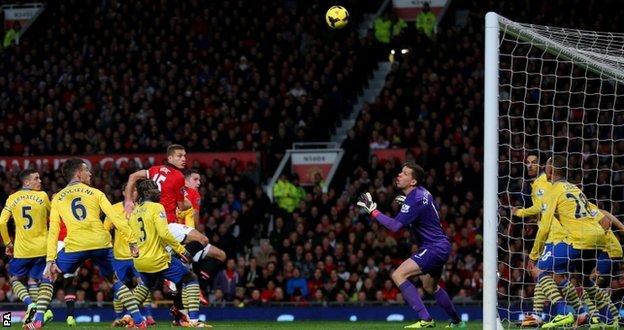 With zonal marking, each player is given an area of the box to cover but that allows an attacker to get a run on you and the extra height they can get on their leap gives them the advantage in winning the ball in the air, which is exactly what happened for United's goal.
The way to stop those runners is to have blockers on the penalty spot, which is what Ramsey should have been doing rather than allowing Van Persie to run unopposed to the near post, where he beat Giroud.
Would Per Mertesacker have been designated that zone if he had been able to play? Possibly. Van Persie would still have had a run on him, though.
That was the first league goal Arsenal have conceded from a set-piece this season, so it has obviously worked for them in the past. It cost them on Sunday, however.