David Moyes: Manchester United manager expects close title race

By Phil McNulty
Chief football writer at Old Trafford
Last updated on .From the section Football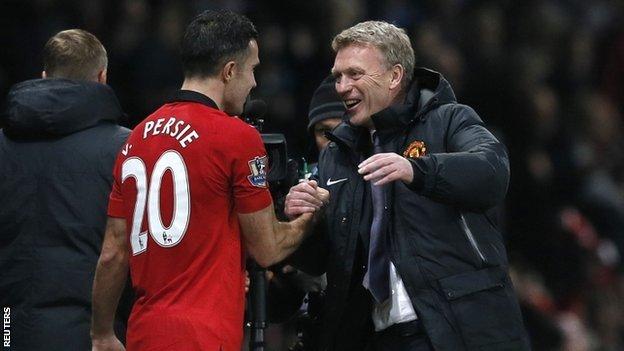 Manchester United manager David Moyes is predicting a close battle for the Premier League title after seeing his team beat early pacesetters Arsenal.
"I don't think anyone's going to run away with it," said Moyes.
"I think there [will be] a lot of ups and downs. It's a close-run league this year. There will be a few shocks."
United made a stuttering start to the season but are up to fifth in the table after three wins in a row.
Robin van Persie's first-half header against his former club helped United leapfrog City, who lost 1-0 at Sunderland, and Tottenham, who went down at home to Newcastle by the same score.
Fourth-placed Chelsea, who needed a last-minute penalty to draw 2-2 at home with West Brom on Saturday, are only one point above United.
Moyes, who succeeded Sir Alex Ferguson in July, is pleased to see his team settling into some sort of rhythm, but insists there will be more twists and turns along the way.
"This is another step on the ladder," he said. "We're improving and getting better, and we hope it will get much, much better in the coming months and years.
"We have got a lot of big steps to take here and it is going to take me a while to get it all the way I want it to be.
"We are going to get a few bloody noses along the way but the league has shown that a few other clubs will be getting them as well.
"But Manchester United were champions last year and there's a lot of people [who have] written them off very quickly - which is fine - but hopefully come the end of the season we will not be too far away from it."
Moyes delivered a glowing verdict on the quality of strikers Van Persie and Wayne Rooney after their outstanding displays against Arsenal.
It was from Rooney's corner that Van Persie glanced a header into the top corner for what proved to be the winning goal against the north Londoners.
And Moyes said: "Great players score great goals in big games and Robin's a great player. His sidekick [Rooney] played great as well.
"The two of them were fantastic. The big players are coming up when needed and Robin and Wayne gave two big performances."
Rooney continued his impressive season and Moyes added: "His energy, the way he worked and some of the stuff he did was magnificent. He told me he gave the ball away a couple of times and I just thought 'dear me.' He did some brilliant things.
"I thought the way Wayne and Robin played merited their title as top players."
Former Gunners striker Van Persie has scored in each of the last five Premier League meetings between Manchester United and Arsenal; twice for the Gunners and three times for the Red Devils.
"It was a massive win," Van Persie told MUTV.
"I always like to think positively but if you think negatively for one second, we could have been 11 points behind, which would have been dramatic.
"It was a six-pointer. Now we are five [points behind] and we are right in the mix. You need to be strong as a team. That is what we did."