Michael Laudrup: Swansea boss disputes handball penalty call
Last updated on .From the section Swansea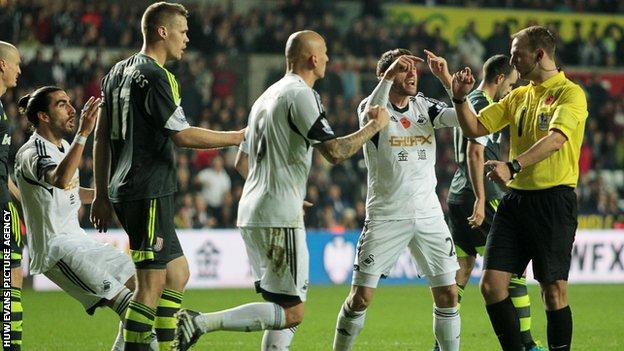 Swansea manager Michael Laudrup was unhappy with the late penalty awarded to Stoke that cost his side victory.
With Swansea leading 3-2 in the last moments of the Premier League game, referee Robert Madley ruled that Wayne Routledge had handled in the area.
The home side protested but Charlie Adam converted the penalty to at the Liberty Stadium.
"I have to stand here more frustrated than ever because of a very poor decision," Laudrup said.
"I always defend referees and linesmen because they are humans but now I have seen it.
"Seven Stoke players inside the box, none of them asking for handball, just one [person] in the stadium saw it and it was the ref.
"I have to be careful. We can't talk about them. We all make mistakes but I can admit I made a mistake. The referee, never.
"It is like they don't exist, they can't speak. I have to be careful what I say or else I get fined another £1000. Refs make mistakes - we all do, but at least admit it."
The ball did appear to have brushed Routledge's hand as it came down but the winger's arms did also appear to be by his side.
"It is not always handball if it touches you," Laudrup added. "Whenever there is a handball there are players trying to do something to make the referee give handball.
"It would have been a fantastic win and it is all away because of a very, very bad decision."
The last-gasp controversy overshadowed a thrilling game in which Stoke had raced into a 2-0 first-half lead through Jonathan Walters and Stephen Ireland.
Wilfried Bony got one back early in the second half for Swansea, before Nathan Dyer levelled and then Bony struck again with five minutes of normal time remaining to seemingly complete an incredible comeback.
Adam's late penalty was particularly hard for the Swans to take as they had let leads slip in the dying moments of both Europa League meetings with Russian side Kuban Krasnodar in the past fortnight.
"It is a lot of emotions today," admitted Laudrup. "We started OK and then they score. Fifteen minutes later they scored another one, I could not believe it because I thought they didn't do too much.
"We still continued to play, created two or three chances. I said to the players we have to continue and believe in what we are doing, [it was an] absolutely fantastic second half.
"I am so frustrated for my players. We travelled on a five-hour flight, came back Friday and I am really sorry for them."