Manchester United: Title rivals will be nervous as momentum builds

By Phil McNulty
Chief football writer
Last updated on .From the section Football689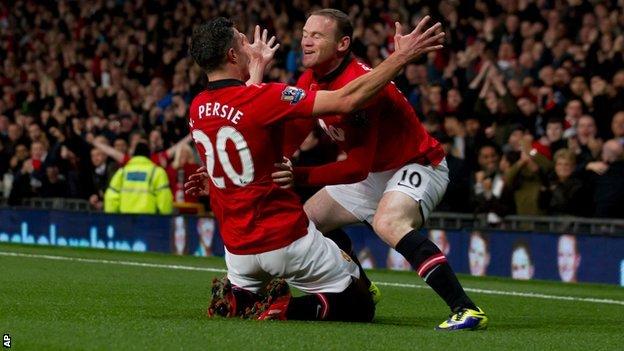 Manchester United did not make a complete case for normal service being resumed by beating Arsenal - but a glance at recent results and the Premier League table suggests the obituaries can stay locked in the drawer.
The noise levels around Old Trafford, and the joy that greeted the final whistle, were an accurate measure of this game's significance to United and David Moyes.
United needed three points to stop Arsenal extending their lead over them to difficult, if not quite impossible, proportions. Their still relatively new manager needed a victory in a game of such status after previous opportunities against Chelsea, Liverpool and - desperately and embarrassingly - Manchester City yielded only one point.
And both duly arrived courtesy of Robin van Persie's soaring 27th minute header from Wayne Rooney's corner. If the striker is, as Arsene Wenger suggests, still "an Arsenal man" then he has a funny way of showing it.
Van Persie scored in both meetings with his former club last season and here there was no question of him obeying the contrived new convention of refusing to celebrate against old associates. As he beat Olivier Giroud in the air amid breakdown in Arsenal's zonal marking system and sent his header over Kieran Gibbs on the line, Van Persie was off in elation as Old Trafford rejoiced. And quite right too.
Moyes punched the air in delight at that moment and again as he marched briskly towards the Stretford End at the conclusion. This is not vintage United but there is now at least a sense of building momentum.
As the title race takes shape in a season of inconsistency and unpredictability, it can be said with certainty that United have joined the battle. They are now fifth and five points behind leaders Arsenal, unbeaten in nine games in all competitions.
They may not be moving with the menace of old but United still sense opportunity and their own undistinguished start has not been fully punished by those they would regard as their rivals. Six points separating the top eight teams tells the tale.
Moyes accepted United may get "bloody noses" along the way - but the pain will be lessened as long as Manchester City and Spurs feel similar pain as that inflicted by Sunderland and Newcastle United on Sunday and Chelsea show inconsistency.
Despite the season being only 11 games old, there was a genuine danger of United falling somewhat adrift had Arsenal won and gone 11 points clear of them. Instead Moyes was dismissive of suggestions United may have their adversaries exactly where they want as they lurk in the background, a handful of points off the lead. He wants to go top.
The early evidence of this season makes predictions nonsensical but United will be in the top four and the failings of others, coupled with the sort of quality Van Persie and the magnificent Wayne Rooney offered on Sunday, will make them feel title number 21 can still come this season.
Amid all the talk of the best partnerships in the Premier League, as Liverpool flourish with Luis Suarez and Daniel Sturridge and Manchester City enjoy Sergio Aguero and Alvaro Negredo, Van Persie and Rooney take some beating when they play as they did against Arsenal.
Van Persie may have provided the cutting edge but Rooney was simply outstanding. As with all top-class players, he has a work-rate to match his natural talent and he is currently playing as well as he has done in recent memory.
These two players alone can win the big matches for United, a fact more or less acknowledged by Moyes.
As for Arsenal, this was a disappointing end to a fine week after beating Liverpool in the Premier League and bringing back an outstanding Champions League win from Germany against Borussia Dortmund.
Wenger's side were flat in the first half. There was talk of illness sweeping through the Gunners camp and the absence of unsung defender Per Mertesacker and midfielder Tomas Rosicky were felt. The manager, to his credit, made a point of not using this as an excuse for defeat.
It was a surprise to hear Wenger say Arsenal were nervous, explaining it may have been the result of the magnitude of the match allied to a lack of recent success at Old Trafford.
Arsenal dominated possession for long periods in the second half but rarely threatened home keeper David de Gea. It would, though, be harsh in the extreme to cast doubt on their pedigree after defeat at a ground where many will experience a similar feeling this season.
There are, however, one or two concerns Wenger will no doubt be aware of and will surely aim to remedy in January.
Nicklas Bendtner's introduction as a late substitute not only advertised Arsenal's current injury problems in attacking areas with Theo Walcott, Alex Oxlade Chamberlain and Lukas Podolski out, it also illustrated what may face them should Giroud not stay fit.
Arsenal need another striker and Wenger will surely make this his next transfer priority. For all Giroud's fine acclimatisation to the requirements of the Premier League, he is not a Van Persie or a Rooney.
Mesut Ozil also had a quiet day when Arsenal and their followers would have been hoping he would demonstrate what United missed by not pursuing his signature.
Had it have been offered several weeks ago, however, Arsenal would still have taken their position in the table and the real possibility of qualification for the Champions League knockout phase. There is still much to be optimistic about.
For United and Moyes, this was their biggest win since the Old Trafford guard changed with Sir Alex Ferguson's departure after 26 years.
There is no doubt the aura has gone and the fear factor, the sense you were playing Ferguson as well as his players, has been diluted - but the sight of Manchester United, while hardly in unstoppable mood, moving into the top five will still be enough to make those still above them glance nervously over their shoulders.