Hereford United: Relegation would be a 'disaster', says Bulls chairman
Last updated on .From the section Hereford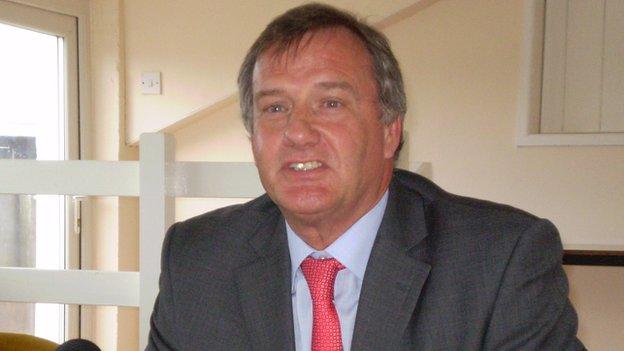 Hereford United chairman David Keyte says that a second relegation in three seasons would be a "disaster" - but that it could give the chance to bring financial stability to Edgar Street.
Keyte admits that a second relegation is possible - but not something that he cares to contemplate.
"It would be a disaster," he told BBC Hereford & Worcester.
"There is a line of argument out there that the income for the football club is such that, if we're struggling to make it work in the Conference Premier, it might be better to go down. To find your level, so to speak, to be able to balance the books.
"We've now had two seasons trying to readjust to having our Football League income deal taken away. Instead of £725,000, we are now on £47,000 a year.
"Everybody says to cut your cloth, but you're not going do it overnight.
"It can take four, five or six years to readjust and start to push again. like a Kidderminster or a Grimsby.
"But the danger is, for everyone doing that, there's a Darlington or a Stockport County going straight through. And we don't want to be that one."
The Bulls, already losing around £30,000 per month, were kept afloat last season by a timely FA Cup run that earned a first-round victory over Shrewsbury Town and two lucrative televised second-round clashes against Cheltenham Town.
Having been close to administration, they saw their average home gates suffer a 30% drop from 2,553 in League Two in 2011-12 to 1,752 in the Conference in 2012-13 - a figure that has risen only slightly this season to 1,785.
They ended last season unable to meet their full wage bill on time, a threat that has again reoccurred this term, before offloading the majority of their squad over the summer.
But any hopes of a potentially lucrative FA Cup run were ended by Sunday's 2-0 FA Cup first-round defeat at Burton Albion.
And Hereford-born businessman Keyte, 59, has already pumped in at least £600,000 of his own money.
"It's frustrating when you read that relegation from the Football League is all down to me, that I've ruined this club," he added.
"I thank all those people who take time to tweet me. Some of the language is a bit choice, that you wouldn't show the wife. But we keep our heads down and battle from week to week.
"You're always going to get, even in this league, one or two clubs pushing forward through new money.
"As our manager Martin Foyle is rightly able to say, we're at the mid to lower end of wage budgets at this level - and usually results follow.
"That's why the likes of Manchester United or Chelsea bubble up to the top and not Crystal Palace. It's the same in every league.
"New money doesn't always guarantee success. Forest Green are a case in point at the moment.
"The fact is that this level of football is struggling. The idea of going to watch your local side is less important than it was 30 years ago.
"You don't have to leave your living room to watch the best players in the world."