Inquiry launched after Italian game abandoned over 'death threats'
Last updated on .From the section European Football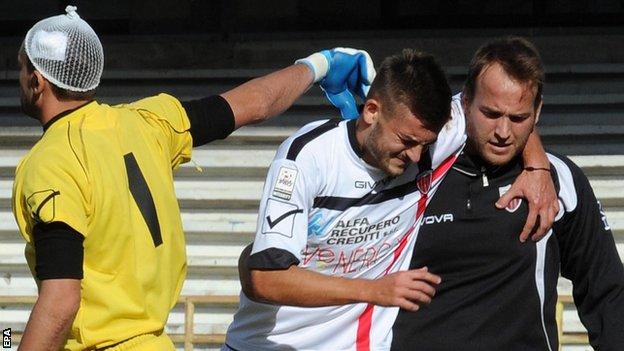 An investigation has begun after an Italian third division match was called off amid allegations of death threats and a team being reduced to six men.
Salernitana were hosting Nocerina on Sunday in the game in question.
The away team's fans were banned and reportedly threatened their own players about taking part.
Nocerina made three substitutions in the opening two minutes and five players went off injured before the match was called off after 21 minutes.
The club's sporting director Luigi Pavarese said: "The lads went onto the pitch without warming up, which caused the injuries."
The Lega Pro group B encounter in southern Naples had already started 40 minutes late with the Nocerina players needing to be persuaded to take the field.
"Looking to head off crowd trouble, the authorities ordered that the Nocerina fans be barred from the derby at Salernitana's ground and some of them reacted furiously," said the BBC's Italian correspondent Alan Johnston.
"It seems they felt that if they were not being allowed to go to the game, their team should stay away too.
"Death threats were allegedly made to the Nocerina players, and they arrived at the ground clearly reluctant to play the match," our correspondent said of the game, which attracted a crowd of nearly 9,000 spectators.
"When they were eventually persuaded to take the field it was immediately clear that their hearts were not in it."
Johnston added that local judicial authorities had begun an inquiry that would aim to punish those who allegedly threatened the team.
Some 30 hard core Nocerina fans - known as "Ultras" - are believed to be at the centre of the investigation.
They were identified from video footage taken at the team's training ground, where supporters gathered and the threats were supposedly made.
"This has caused enormous damage, it's an extremely grave matter," Lega Pro director general Francesco Ghirelli told Italian television.
"We have to reflect on how to prevent these indecent spectacles. It's a disgrace.
"We will wait for the sporting tribunal to judge this episode which has done huge damage to the Lega Pro."
Nocerina's "Ultras" issued a statement on Monday saying they did not issue any death threats, but wanted to issue an "unmistakeable message" and "give voice to an unfair act imposed on the fans".