South American sides to show World Cup credentials
Last updated on .From the section Football467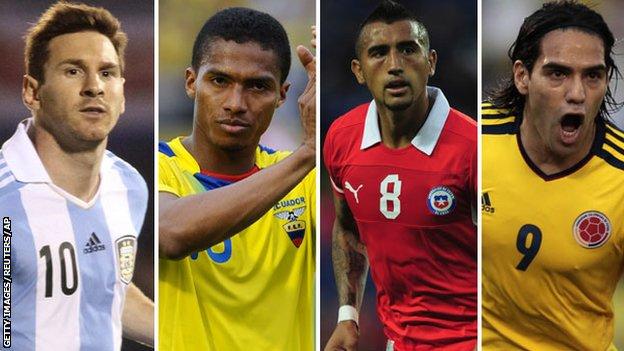 Over the next few days South America's World Cup sides will present their case for the defence.
Naturally, good things are expected next year when the World Cup finally returns to South America.
But on the evidence of the 2014 qualifiers, there could be a problem. A common theme of the campaign was teams tended to be better in attack than defence.
It was certainly a headache for Uruguay, who went through a nightmare spell in the middle of the competition when they conceded 15 goals in six games, in a run which at one stage seriously threatened their place in Brazil.
They rallied enough to finish fifth yet again, and qualify for what has become their customary play-off slot. In part this was down to an acknowledgement of their limitations; the defensive unit is ageing, so they dropped deep, with the midfield close to the back line, leaving plenty of space to slip Luis Suarez on the counter.
Against play-off opponents Jordan, it is likely that they will try something more expansive, seeking to score some away goals in Wednesday's first leg. But assuming they make it to Brazil, their approach is likely to be one of caution mixed with counter-attacks.
Argentina, meanwhile, are tipped the other way. Coach Alejandro Sabella said recently that when his team are under fire there are times when all he can do is shut his eyes and pray.
It is a consequence of fielding an attacking trident of Lionel Messi, Sergio Aguero and Gonzalo Higuain, plus Angel Di Maria in the midfield trio. But there are also doubts about the individual quality of Argentina's defenders.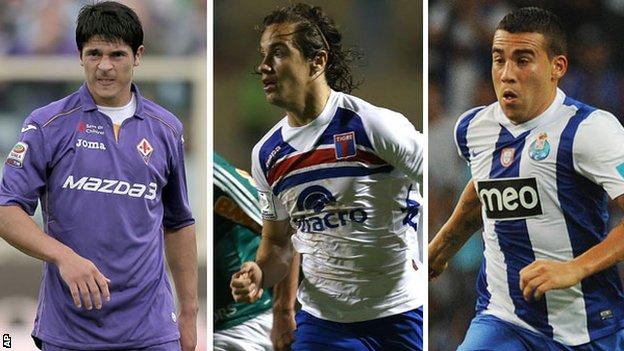 There would seem to be an air of desperation about Sabella's decision, at this late stage, to include three new centre-backs - Facundo Roncaglia, Nicolas Otamendi and Lucas Orban - in his squad to face Ecuador and Bosnia.
And Ecuador, with plenty of defensive problems of their own, have rushed back their most impressive centre-back, Jayro Campos, after a lengthy injury lay-off.
In Colombia all eyes will be on the international debut of Eder Alvarez Balanta, a 20-year-old centre-back with River Plate in Argentina. Left-footed, fast, hard and constructive, he has made a huge impression this year.
After just a few games, club coach Ramon Diaz compared him to former Argentina captain Daniel Passarella. He is understandably raw, but is he ready?
Colombia need someone to emerge in this position; their centre-backs are creaking - approaching 38, Mario Yepes is increasingly vulnerable.
Someone even older is likely to be in goal. An injury to first-choice keeper David Ospina opens the door for 42-year-old Faryd Mondragon - outstanding against England in Colombia's last World Cup match - but that was 15 years ago.
He and Alvarez Balanta are likely to be tested; Colombia are taking on dangerous opponents in Belgium and the Netherlands.
Also throwing themselves in at the deep end are Chile, who visit Wembley on Friday to face England, before flying on to Canada to meet Brazil.
As I commented here in September, Chile are once again likely to become the neutrals' favourites in the World Cup.
They have the same swashbuckling approach that made them so attractive in South Africa 2010, with a generation of players who have moved into their footballing prime.
They are the continent's form side, with five wins and a draw in the final six rounds of World Cup qualification, plus a 2-2 draw with Spain in Switzerland where they were seconds away from a famous win.
Electric little coach Jorge Sampaoli appears to have settled on an attacking trident with quick, talented strikers Alexis Sanchez and Eduardo Vargas pushed wide, and twinkle-toed playmaker Jorge Valdivia employed as a false nine.
This would seem to be the reading of his squad, where all of the conventional centre-forward options have been left out. Full-backs Mauricio Isla and Eugenio Mena are also expected to keep bombing forward as Chile look to play high-tempo football in the opponents' half of the field.
But they can leave themselves exposed. Rather like Argentina, Chile have a dual problem; the balance of the side is firmly tipped towards attack, and the individual quality of their defenders is in doubt - hence the fact Gary Medel, Cardiff City's little pitbull of a defensive midfielder, is normally employed in the back line (where Chile can switch between a three and a four).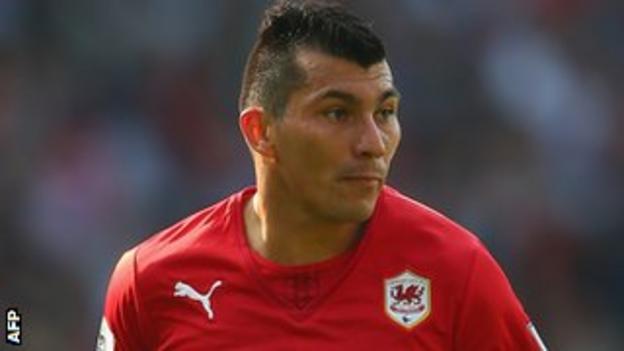 He could revert to his natural position if midfield powerhouse Arturo Vidal is not fit to play. Either way, the coming games will be a test of Chilean defensive solidity.
In last month's 2-1 win over Ecuador they had real problems containing the pace and power of Luis Antonio Valencia. On Friday it will be interesting to see how they cope with the likes of Andros Townsend. And should they give away set-pieces, their defending in the air leaves much to be desired.
And then comes the meeting with Brazil - whose magnificent counter-attack has so often proved too much for the Chileans, most notably when it ended their last World Cup campaign in South Africa.
But the mere fact Chile have agreed to face these opponents is an indication of their boldness. Coach Sampaoli is talking up their chances of making real progress in the World Cup.
His team are guaranteed entertainment - we will know a bit more about their chances in Brazil after these two friendlies.
Comments in the space provided. Questions on South American football to Vickerycolumn@hotmail.com and I'll pick out a couple for next week.
From last week's postbag:
My wife has been given an opportunity to work in Sao Paulo for nine months from March next year and we're both football fans and would like to take in some of the local games. Do you have any teams/stadiums to recommend for non-locals? Taking in mind safety as we've been warned that it's not the safest environment! Steve Barry
How about Portuguesa? They need you - some of their games attract crowds of under 2,000. I can never really understand this; the club has some tradition, the stadium is well located - I was talking to someone recently who told me it's his favourite place to watch football - the shirt is striking and unusual without being gaudy.
The more obvious choices are Corinthians, Sao Paulo and Palmeiras, but I'm sure you'd get a warmer welcome at Portuguesa.
Whatever happened to Celso, who played for Brazil at under-17 level in Peru 2005? Never heard of him since after that World Cup, and why do you think many from that tournament haven't done well in Europe? Alex Bentil
I was at that tournament - I haven't paid much attention to the under-17 level since because I came to the conclusion that it was too early in the vast majority of careers to know how the player would develop.
Celsinho, as he's known over here, went out of his way to cultivate a similarity with Ronaldinho. But he's one of those prospects who has never really kicked on.
He came up the ranks with Portuguesa (the only time, I think, that this club has had two separate mentions in my column), made a world tour round Russia, Portugal and Romania but never really settled. He's currently with Londrina in the Brazilian fourth division.