Rangers: Malcolm Murray confident of winning AGM vote
Last updated on .From the section Rangers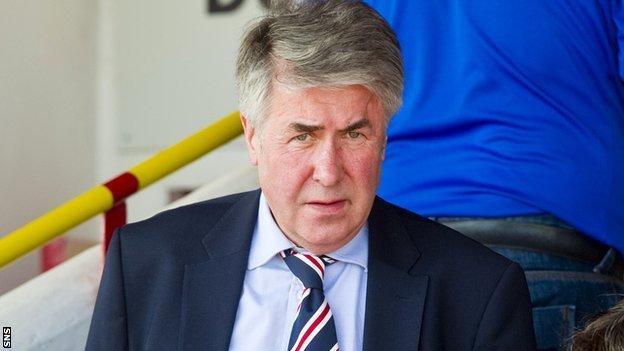 Former Rangers chairman Malcolm Murray believes his group will have the "overwhelming" support of shareholders at the club's AGM on 19 December.
He is confident of winning a vote that would see himself, Paul Murray, Alex Wilson and Scott Murdoch elected to the board of the PLC.
They are part of a group led by Scottish businessman Jim McColl.
"In terms of a manifesto, we have the best team. We've got the best interests of Rangers at heart," said Murray.
"It's like going into a cup final. You're confident but you can't guarantee it. You never know whether someone can change their mind at the last minute.
"Anyone with an open mind will vote for this group. There's very few that aren't backing this. The fans are totally behind transparency and that's what they chanted outside the front door of Ibrox."
Murray, speaking on BBC Radio Scotland's Sportsound programme, also played down suggestions that former Rangers owner Craig Whyte is still involved at the club.
Another topic of discussion was the potential candidates for a chief executive position at Rangers.
The names of former Liverpool chief executive Rick Parry and Garry Cook, who held a similar position at Manchester City, have been mentioned.
Scot Gardiner, currently chief executive at Dundee, is also among those under consideration.
But Murray does not think now is the time to be making that kind of appointment.
"Other things being equal, it would be positive," he said.
"But any chief executive in his right mind would not join a board in this state of turmoil.
"I have never seen a board being reduced to, effectively, one man and a dog when they had five directors three weeks ago."
Murray was asked who he believes is behind Blue Pitch Holdings and Margarita Holdings, who hold a 12% stake in the club.
"Blue Pitch, as far as I was told; they are rich Arabs who do not like publicity on any form at all," he said.
"So that's who they're meant to be. They funded Charles Green to do this.
"But of course, in public company shares you never know who owns what and who's transferred what and who's done what side-deal with who, because we don't know where Green's shares are at the moment.
"We believe the Easdale brothers have got voting rights over them, but we just don't know where they are. There is a slight suspicion as to where they are.
"I don't know if I agree the Easdales are running the club. I think they're running it on behalf of the shareholding group they represent which is slightly mysterious."
Murray's group have previously stated that action could be taken to bar Blue Pitch Holdings and Margarita Holdings from voting amid concerns over the identity of their backers.
But in a statement on Monday, Rangers claimed that they had taken all legal steps to address requests for details of the shareholdings and the holdings have "properly responded".
The club's statement said: "The company understands that these former directors will, having seen these responses, be aware that there are no grounds to take action to bar voting rights."