Swansea v Stoke: Jeff Winter says referee should have had his say
Last updated on .From the section Football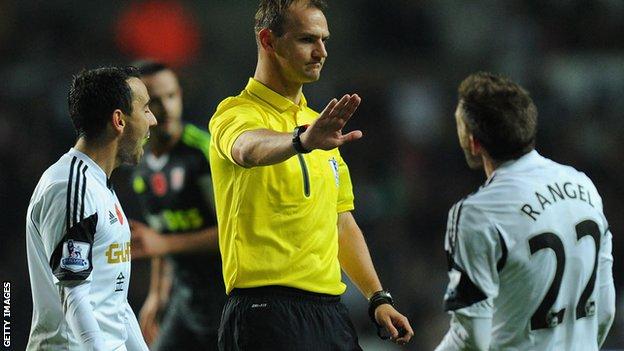 Former Premier League referee Jeff Winter believes match officials should be allowed to give interviews to the media to explain decisions.
Swansea manager Michael Laudrup complained about referees not explaining themselves after Stoke City scored a late penalty awarded by Robert Madley in Sunday's 3-3 draw.
Winter believes Madley made a mistake, but deserves to have his say.
"I agree with what Michael Laudrup was saying," said Winter.
"If the referee had come on at the end of the game... I think people would have understood."
Premier League referees are discouraged from giving media interviews by Professional Game Match Officials Limited, the body which trains and assesses match officials in the professional game.
But Winter thinks the incident on Sunday - which led to Stoke City's equaliser in the 3-3 draw - underlines why referees should be allowed to speak to the media.
"He's made a mistake, a costly mistake but during the course of that game of football a lot of other people have made mistakes that were equally costly," he added.
"[Swansea striker Wilfried] Bony scores two goals and is a hero but he missed a couple of easier chances.
"We're talking about human error and an inexperienced Premiership referee who I hope will learn from what was a mistake and move on and learn from it.
"On some occasions they can give reasoning why they've given the decisions.
"Not every time is the referee going to have to say I got it wrong, but on many occasions his justification may enlighten a few people and I think it's about time it started happening."
Winter officiated in his last match in 2004, and said he was not expressly forbidden from giving his views to the media during his career, but added the practise was discouraged.
"We never ever received a directive saying you cannot go on television or radio, but you always felt that it was 'on your own head be it' if you said the wrong thing," he explained.
"I think some of the referees would like to go on [to be interviewed on television].
"The problem is the only time anyone wants to hear from a referee is after there has been an incident like this.
"There has to be a time and place to give an explanation, but I think most definitely they should do."