Lionel Messi: How will Barcelona cope without star forward?
By Andy West
Spanish football writer
Last updated on .From the section European Football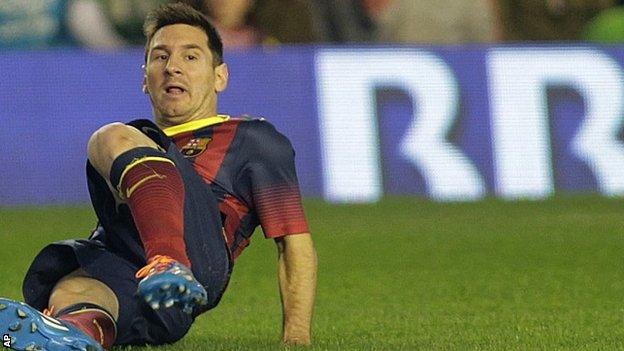 Barcelona fans did not have to wait for long to find out how their team would respond to Lionel Messi's latest injury absence.
The Argentina forward hobbled off with a torn hamstring midway through the first half of Sunday's game at bottom-placed Real Betis. With Messi on the pitch during the opening 20 minutes, Barca had been second best, relying on two excellent saves from in-form goalkeeper Victor Valdes to preserve the deadlock against their determined hosts.
Fifteen minutes later, however, they had shrugged off their star player's departure by racing into a 2-0 lead courtesy of two goals in the space of 90 seconds from Neymar and Pedro.
And in the second half, Cesc Fabregas, who had moved into Messi's deep-lying forward role, secured the victory with two more goals, as if to underline the message: We can cope without Messi.
There has been a similar pattern for much of the season, with Messi enduring a frustratingly fragmented campaign because of a succession of injuries. He has scored just 21% of Barca's league goals (eight of 38), having accounted for almost double that figure in last year's title-winning campaign (46 of 115 - 40%).
But the team has kept on winning regardless - even against Real Madrid, when the goals in a 2-1 victory were scored by Neymar and Alexis Sanchez, while Messi played a peripheral role in an unfamiliar right-wing position.
Barca's success so far this season without their inspirational Argentine has provided the perfect answer to suggestions that they had become over-reliant upon their number 10 - 'Messidependencia', as it was dubbed by the Spanish press.
Those criticisms reached a peak in the spring, when Messi, hampered by injury, was well below his best for the Champions League semi-final against Bayern Munich and the Nou Camp club appeared to have no alternative approach as they sank to a 7-0 aggregate hammering.
That defeat against Bayern was a watershed moment in Barca's recent history, provoking an unprecedented level of soul-searching and a long debate over whether their famous possession-based short-passing game, universally known as tiki-taka, needed to be abandoned or, at least, significantly amended.
Amidst that discussion, one enforced change was made during the summer when manager Tito Vilanova resigned through ill-health and was replaced by Argentine Tata Martino, signalling a departure from the recent line of homegrown bosses (Vilanova had previously been Pep Guardiola's assistant).
From day one, Martino was relentlessly interrogated about one subject more than any other: Exactly how much he intended to change the playing style of the team he had inherited. And although he consistently insisted that he is a great admirer of 'the Barca way', he also admitted that he would like to introduce some minor changes.
Watching Barcelona this season, however, the inescapable impression is that those changes could ultimately prove to be more significant than Martino is prepared to admit. Before last week's Champions League meeting with AC Milan, one of the team's most eloquent players, Dani Alves, acknowledged as much.
"Our style of play is based upon dominating possession, just as it always has been. That will not change - you only have to look at the type of players we have to see that," Alves began.
So far, nothing new. But then the Brazilian full-back tellingly added: "The difference is that now we don't need 18 or 20 passes to reach the opposition goalkeeper. We have an alternative style of play. Before we were very monotonous and that made life easier for our rivals. We are trying to surprise people and look for new ideas without changing our style."
One consequence of those "new ideas" has been less of a reliance upon Messi. The more direct approach has allowed other players to come to the fore, with Neymar and Fabregas becoming pivotal figures in the team's attacking play. Also notable is the fact that Pedro and Sanchez have already combined for 13 league goals this season, having managed just 15 in the whole of the previous campaign.
And Messi is not the only one whose role has been diminished: Andres Iniesta and Xavi, the other prime purveyors of tiki-taka, have also been significantly less productive. In 2012-13, they were credited with a combined total of 24 assists and eight goals in La Liga; so far this season, it is just two assists and two goals.
Of course, the season is still young, statistics can be misleading and none of this is to suggest that Messi has suddenly become superfluous.
He remains Barca's most important player and the man they will look to be the difference-maker in the crucial games towards the end of the season. The Catalan club's performances have been less convincing than their results and, when Messi recovers full fitness, the team may well revert to an approach that leans heavily upon his brilliance.
But his return to action is now undeniably less urgent than it might have been a few months ago.
Messi's comeback from his latest hamstring injury could be the first game after Christmas, at home against Elche on 4-5 January, although the date he will be more firmly fixed upon is the following weekend's trip to second-placed Atletico Madrid.
In the past, the prospect of travelling to the Vicente Calderon without Messi would have been truly daunting for Barcelona; now, though, there is a growing feeling they can find other ways to win.