Chris Coleman needs Welsh FA backing, says ex-boss Terry Yorath
Last updated on .From the section Football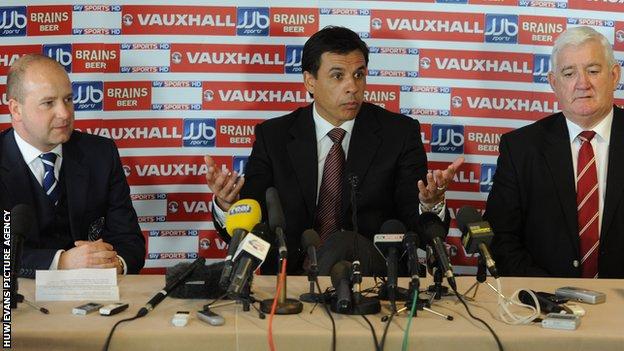 Manager Chris Coleman is the right man to lead Wales but needs the unequivocal backing of the Football Association of Wales, says former boss Terry Yorath.
Yorath says Coleman should lead Wales in their Euro 2016 qualifiers.
"Just get behind him. He is the man for the job and let him get on with it," said the former Leeds United player.
The FAW has been in talks with Coleman, who has been linked with the vacant position at his former club Crystal Palace.
It is understood Coleman is keen to continue and the FAW hopes there will be a positive announcement this week.
There had been doubts over Coleman's position following a largely disappointing World Cup qualifying campaign in which Wales finished fifth of six in their group after three wins, a draw and six defeats.
The former Fulham and Coventry boss previously said he was undecided about continuing in a role he took over in January 2012 following the death of Gary Speed.
"Chris needs the FAW to get right behind him and come out and say they are right behind him," said Yorath, who was Wales manager between 1988 and 1993.
"I didn't like the comment, about two months ago, that they were in talks with Chris and he has done a great job, then lo and behold, two or three weeks later, they say they want to see how the next two games go.
"How is he going to feel?
"One minute they are saying one thing and the next minute they are saying another thing."
Yorath also pointed to the lack of any real alternative candidates to Coleman.
He believes the former Stoke City manager, Tony Pulis, the one Welsh manager currently available, still wants to manage in the Premier League.
"What are the alternatives to Chris? There are not many," said Yorath.
"Pulis is probably one and he is a very, very good manager. But you think to yourself, does he want that job yet? He is probably looking for a Premier League job, which he deserves."
But Yorath, who managed Swansea City and Cardiff City, also has some advice for Coleman and his approach to being Wales manager.
"He has to be positive about doing it," said Yorath. "He has to think to himself that this is the start of another period of Welsh football.
"If he can get the right players fit and in the squad, then he has a chance.
"[Gareth] Bale and [Aaron] Ramsey are world-class players. If he can get a team around them then he will be OK."