Foran urges patience over Inverness manager search
Last updated on .From the section Inverness CT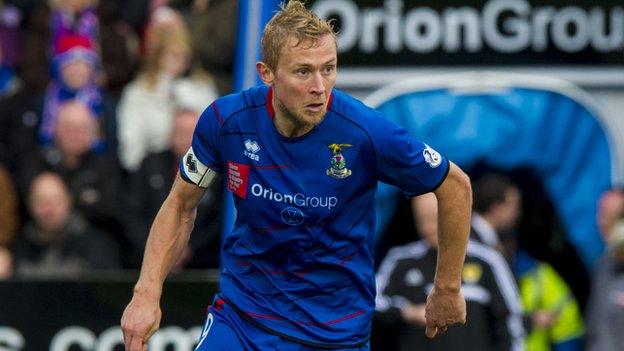 Inverness captain Richie Foran has urged the club's board to take their time in appointing a managerial successor to Terry Butcher.
"It's not important to get someone in as quickly as possible," said Foran.
"I spoke to the chairman and told him there's no rush. I've guaranteed him the boys will be working hard."
Hibernian moved quickly for Butcher after Pat Fenlon stepped down as manager at Easter Road on 1 November.
Foran told BBC Scotland the players were informed of the 54-year-old's departure on Friday, and, while it was difficult to lose their manager, everyone at the club has to move on.
"Once the news came out, the manager kept us informed with what was happening and what his thinking was," explained Foran.
"We knew from last Friday that he was going to leave the club. We accepted it, we got on with it and the journey continues.
"We're all a little bit sad - he was wonderful for us and we had huge trust in him and Maurice, but things move on and that's football.
"We're focused on the job ahead and the journey we're on."
The Irish midfielder has been asked to assist with first team training while the club seeks a successor to Butcher and he remains positive that the players will not lose their momentum and will work hard to hold on to second place in the Scottish Premiership.
"It's up to the likes of me and the other experienced players to make sure that doesn't happen," said Foran.
"We're fully focused, training has been excellent in the past few days - the boys here have a great attitude.
"The gaffer was a great motivator, but our players motivate themselves. It's not going to be a problem at all.
"I'm sure the board and the chairman will pick the right man to come in.
"There's no rush or panic - we'll take our time and I'm sure the board will take their time making a decision.
"We were given five days off, but we told them we didn't want it, we want to keep it going and we don't want any change.
"Yes, the boss is going to be missed, but we'll continue to strive for a good season."
Bookmakers have installed Foran, 33, as one of the favourites to succeed Butcher, but he insisted he was happy to continue with his playing career for now.
"I think it's a couple of years too early for me to be honest," he said.
"Maybe down the line, but I want to concentrate on my football at the moment."