Al Ahly to sell Zaher following striker's Morsi sign
Last updated on .From the section Football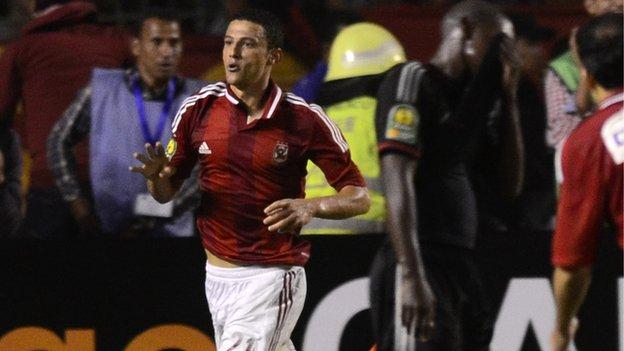 Al Ahly have announced they will sell Ahmed Abdul Zaher after the striker's gesture of support for ousted Egypt President Mohammed Morsi.
Ahly have also fined Mohammed Aboutrika for not collecting his winner's medal.
The midfielder has been told to pay 50,000 Egyptian pounds ($7,250).
The snub by Aboutrika, one of his country's best known footballers, has been widely seen in Egypt as a stand against the interim military-backed government installed after Morsi was ousted.
Aboutrika had instead celebrated the victory with his team's fans, who had been allowed to watch a major match in Cairo in big numbers for the first time since an outbreak of stadium violence at Port Said in February 2012 had killed more than 70 people, mostly Al Ahly fans.
While Aboutrika will remain with the Egyptian side, Zaher has been punished in accordance with what Ahly stated is their philosophy of "refusing to mix politics and sports, discriminating between members of the game''.