Brighton & Hove Albion: Dick Knight offers shares to fans
Last updated on .From the section Football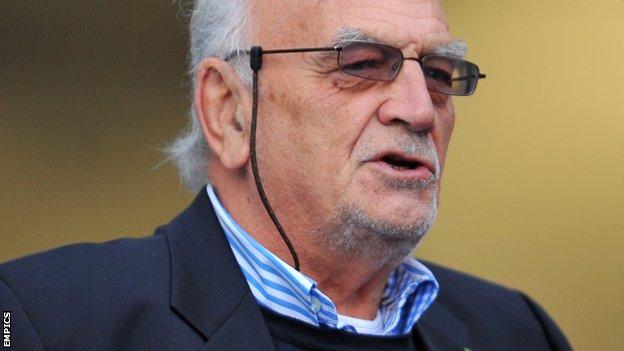 Former Brighton & Hove Albion chairman Dick Knight has offered to sell his shares in the club to supporters.
He told BBC Sussex: "I feel the fans should always have a voice in the club.
"Tony now has 90% and that is fine - everyone is very confident in him. We need to maintain the tradition of this club of the fans' voices being heard."
Knight took over Brighton when his consortium purchased the majority of shares in the club from Bill Archer.
Albion had been on the brink of oblivion in 1997 following the sale of the Goldstone Ground before a campaign by supporters ousted Archer and David Belotti, who was then chief executive.
Knight, now life president of the Sussex side, said their struggles "forged a unique spirit and a sense of purpose" at the club.
"It was the fans who actually saved the club," Knight added. "I'd like my final legacy to the club to make sure the fans always have a voice at the annual general meeting. You only need to have one share to be allowed to go to the AGM.
"If they have any concerns about the way the club is being run they can voice them then.
"It is really an objective to ensure we maintain the traditions that future directors listen to the fans.
"Directors of football clubs should be indebted to the fans, not the other way around. Our board need to remember what our traditions are."
Knight is offering supporters the opportunity to acquire shares if they purchase his autobiography 'Mad Man', with financial rules stipulating that he cannot give his shares away for free.
"They buy the book and they write to me," he said. "I have to make sure they are genuine Albion fans that buy these shares.
"I will know a lot of them anyway and I will make the final judgement on whether they should acquire my shares."