Derby County: Pride Park to be renamed the iPro Stadium
Last updated on .From the section Football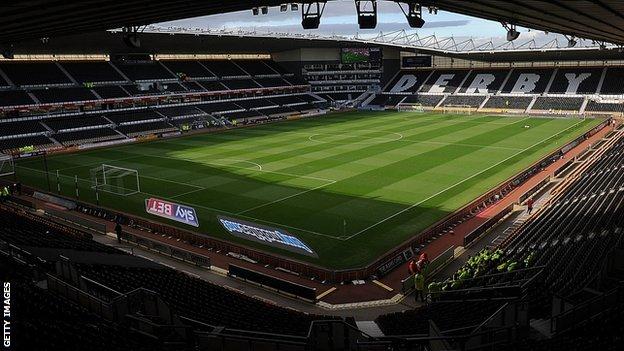 Derby County are to rename Pride Park the iPro Stadium in a 10-year sponsorship deal worth £7m.
The Rams claim the deal with the new sports drink company is the biggest of its kind in Football League history.
Chief executive Sam Rush told BBC Radio Derby: "We are all aiming to take this club to the Premier League and to do that we need significant revenue to invest in the club and playing staff."
The rebranding becomes official when Blackpool visit on 7 December.
Rush added: "When I arrived at Derby in January I made it part of my strategy to identify all lines of revenue and the opportunity to drive revenue through stadium rights is significant, so that is the major driver.
"We are not aware of a bigger deal in the Football League - certainly not with an independent party. There have been some connected transactions with ownership groups and such things, but this an independent transaction."
Derby moved to Pride Park from their Baseball Ground home in 1997 and the name has remained since then.
Rush defended the change and said supporters had been consulted.
"Over the last 10 months we have talked about this with supporters extensively," Rush said. "We have done a lot of tours and generally people have been supportive.
"People will have their views but I hope fans will be supportive and understand why we have done it."