World Cup play-offs: How Iceland can set World Cup record
By Hector Nunns
European football writer
Last updated on .From the section World Cup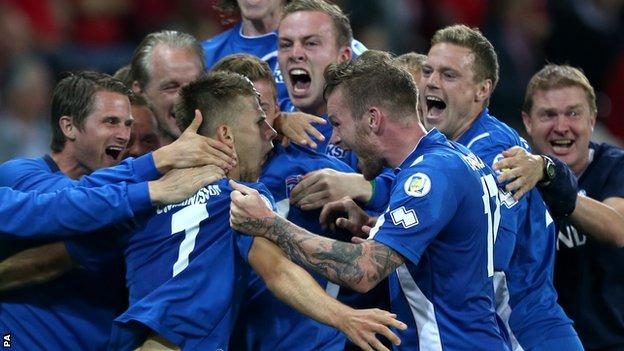 When Trinidad and Tobago featured at the 2006 World Cup, the Caribbean islands may have thought their record as the smallest nation to play at a finals would take some beating.
But just seven years on another island nation - one with a population similar to that of Coventry - is threatening to take that record as Iceland prepare to play Croatia
The 9,800 tickets for Friday's first leg at the tiny Laugardalsvollur national stadium in Reykjavik sold out in three and a half hours - and as many as 35,000 applied, more than 10% of the population.
There is much at stake for the country of 320,000 people led off the pitch by experienced Swedish manager Lars Lagerback, who has taken both Sweden and Nigeria into World Cups, and on it by former Chelsea and Barcelona forward Eidur Gudjohnsen.
Iceland - who are ranked 46 in the world, up from 131 last year - are probably in 'bonus' territory already.
Profiting from a weak Group E, they defied being sixth seeds to finish second to winners Switzerland, and pipped veteran World Cup campaigners and fellow group runners-up Denmark to a place in the all-important play-offs.
But with a prize that, not so long ago, would have seemed an impossible dream now so close, football fever has engulfed the volcanic island, famous for its ash clouds, hot springs, lunar landscapes and fishing industry - not to mention a damaging banking crisis.
They may also be catching opponents and still heavy favourites Croatia at a good time, after defeat by Scotland and the departure of manager Igor Stimac.
And there is one Briton who knows more than anyone just what qualification would mean to the nation. Tony Knapp, a defender for Leicester and Southampton in the 1960s, managed the Iceland national team on two separate occasions, from 1974-77 and 1984-85.
Despite arriving in Iceland when antipathy towards the United Kingdom was at its most acute at the height of the Cod Wars - a bitter dispute over fishing rights which escalated several times to the brink of all-out naval conflict - Knapp made a home and a reputation for himself in the North Atlantic and began the long process of persuading players they could compete at international level.
Now 77, living among the fjords in Norway and only recently retired from coaching, Knapp and Iceland were almost made for each other. The coach disappointed at being overlooked by Europe's major clubs, and the country often underestimated by opponents and hindered by the non-release of players, used a siege mentality to good effect.
"It certainly wasn't the best thing to be English in Iceland at that time, feelings were running very high," said Knapp. "But you had to be there to realise how important fishing was to Iceland at that time. Virtually everyone worked or relied on that industry. It was crucial to Icelandic life, for their survival.
"I was coaching at Knattspyrnufelag Reykjavikur [commonly known as KR] and was then asked to be the national manager. I was on £6,000 a year and for budgetary reasons only allowed to go and watch one team a year in our qualification group for scouting.
"We only had one professional in the national team in 1974. I went to watch players in tiny places you wouldn't believe. But the one thing Icelanders always had was a tremendous desire. I can't remember a single match, even against the top teams in Europe, where they were embarrassed."
He recalls his greatest moment was a 2-1 win over East Germany in a European Championship qualifier in 1975 just a year after their opponents had beaten neighbours West Germany in the group phase of the 1974 World Cup, which the West Germans went on to win.
"That was the start of an enjoyable time," he added. "It was all a bit embarrassing but after that I became something of a hero over there.
"If I made players feel important that was half the battle. All over Europe they were polite, but you could see they looked down on us and I used that. We would go to France in Paris and I would say, 'If we get beat today I am resigning', and the players would look at me like I was crazy. I probably was.
"The players thought I needed a psychiatrist, but the attitude had to change. And I was stunned when I was presented with the Iceland FA Medal of Honour, the first foreigner to receive one."
Knapp says if Iceland do get past Croatia and secure their place at next year's tournament it would be a culmination of 40 years of work.
"It would mean everything to that country to get to Brazil," he said. "The idea of a World Cup group with Brazil, England, maybe Ghana or Ivory Coast and Iceland is incredible. I hope with all my heart they do it.
"They are a hardy nation and people and I hope that stands them in good stead in this play-off."
If Knapp sowed seeds for the beginnings of Iceland's long climb up the football ladder, the process has often been continued on the field by Gudjohnsen, now at Club Brugge in Belgium. He is his country's record goalscorer with 24 and arguably their finest ever player.
"I hope I am right in saying that Croatia will never forget when they came to Iceland in November to play a game," said Gudjohnsen, 35. "Reykjavik will be rocking.
"Nothing that has gone before in the groups plays any part in this now. It is just two games."