Cambridge United: Plan to stay at Abbey Stadium
Last updated on .From the section Football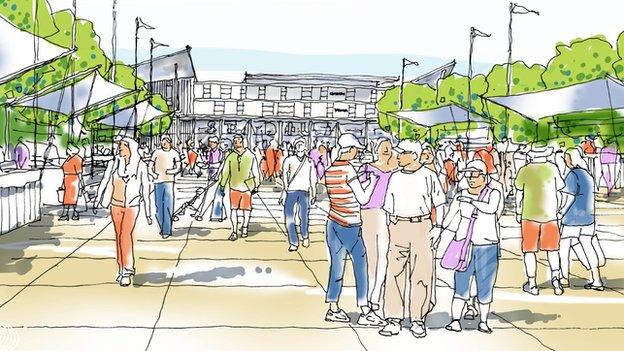 Cambridge United could be staying at their Abbey Stadium home as part of a revised development plan.
The ground's owners, international property developer Grosvenor, had initially wanted to build a new stadium for the club in the Trumpington area.
But that proposal was
Grosvenor are now exploring a "plan B", which would involve redeveloping sections of the Abbey Stadium.
The initial plans, which would have seen housing built on the current site of Cambridge's ground, were dismissed because council officials said the need for the stadium was not sufficient to build it on green belt land.
But Grosvenor say they have not given up hope of still pursuing that proposal.
"Grosvenor have been fantastic," Cambridge chairman Dave Doggett told BBC Radio Cambridgeshire.
"This club over the last three years has been trying to get from financial mess to financial stability. We have been given discounted rent over this time.
"Planning application will go in in April next year. And hopefully everybody will support it. If the planners and politicians want it to start it could be ready by 2015 or 2016."
As part of the new project, a community sporting village would still be built around a strip of new housing in the Trumpington area and would include a velodrome, sports hall, football and hockey pitches, and would be used by the U's for training.
Meanwhile, Grosvenor would pay for redevelopment of the Newmarket Road end at the Abbey Stadium, which would become a community stadium.
The U's would pay a reduced rate and a trust would be setup to ensure that the ground is used for community activities.