Jonny Steele says he will cherish his Northern Ireland debut
Last updated on .From the section Football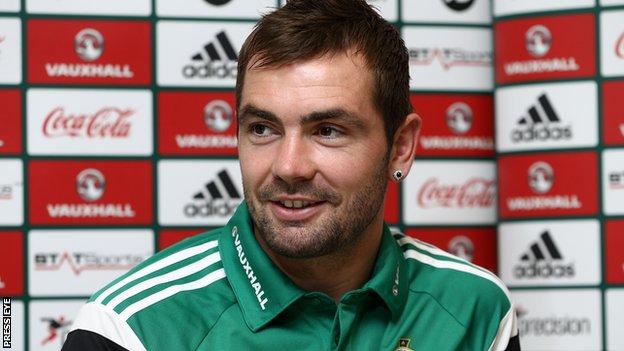 Jonny Steele is already targeting a place in the Northern Ireland squad for the next Euro qualifying campaign, days before making his international debut.
The 27-year-old's displays for the New York Red Bulls this season have propelled him into Michael O'Neill's squad for Friday's friendly in Turkey.
He says he will be proud to earn his first cap after such an unconventional route into the international arena.
"For me it's only the start, getting your face in," said the Larne man.
The midfielder was pondering a contract offer from non-league Macclesfield earlier this year when a late night phone call gave him the chance to join MLS outfit, the New York Red Bulls.
"I got a call at about 2am and it was (head coach) Mike Petke from New York Red Bulls," he said.
"He asked would I be willing to come out and be an impact player for them. I jumped at it."
Steele started his career at Wolves, before moving to the United States as a teenager.
He accepted contracts with a succession of indoor franchises, such as Baltimore Blast and Philadelphia KiXX, before making a breakthrough in Major League Soccer with Real Salt Lake.
He returned to Northern Ireland in 2005 to join Ballymena United but went back to America after a short spell with the Braidsmen.
"When I went back I was grinding it out, playing indoor and outdoor football at the same time," said Steele.
"Indoor football is a crazy game, but you need to make an income, and it was out there.
"It's played in a hockey arena and it's rolling subs, on for a minute, off for a minute.
"But it was a big game out there. In Baltimore we had a record crowd of 15,000 and an average of 7,000."
Steele appreciates just how unusual his path to the Northern Ireland set-up is, but has claimed the same attitude that has taken him this far can help make him a regular in the squad.
"The big picture is the Euro 2016 campaign next year," he said.
"Playing for your country is an honour and it's something I've always wanted to do and if I get that opportunity, I'm going to be hungrier than I've ever been."