Hibernian: Terry Butcher in his prime for task ahead

By Rob Maclean
BBC Scotland
Last updated on .From the section Football21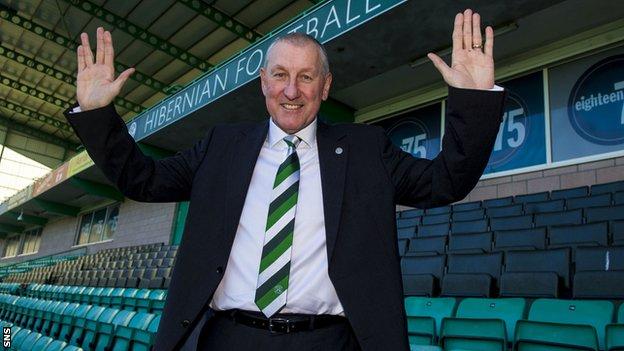 Like the fine wine he knows, loves and plays a key role in his post-match warm-down, Terry Butcher is improving with age.
I would say maturing but I'm too familiar with his sense of humour which is still stuck in the schoolyard.
It's a lovable madness, though, and, contrary to what some cynics might say, had nothing to do with the sudden job swap which uprooted him from Inverness to Easter Road.
Butcher has sensed this opportunity coming for quite a while. In fact, he tells me that I informed him several years ago that he would one day become the Hibernian manager.
I wish I could remember that moment of foresight. It must have been during one of our post-programme analysis sessions when the two of us regularly shared a television studio.
He talked a good game then. He still does. But it's his management skills which have become much sought after.
That wasn't the case 20 years ago when the legendary former Rangers and England captain took his first faltering steps into the dugout.
He was sacked twice - at Coventry and Sunderland - before he'd even completely hung up his boots.
Critics of Butcher's track record still refer to those first forgettable jobs and put two big black marks against his name.
His detractors also point to spells at Sydney and Brentford which were short but certainly not sweet. I think, quite simply, in both those instances, he was in the wrong movie.
Much more relevant to where we are now is the four years Butcher spent in charge at Motherwell and his time at the helm with Caley Thistle, which ended just shy of five years.
Both clubs consistently punched above their weight when he was the boss and his impressive results made him the obvious choice for the latest situation vacant at Easter Road.
Fragile finances at Fir Park meant he operated with the budgetary equivalent of one hand tied behind his back and still guided Motherwell to the SPL top six.
He wasn't able to buy success in Inverness either but still achieved it, picking up players from the English lower leagues, with the help of scout Steve Marsella, and moulding them into a highly successful unit.
How good they've become couldn't have been made any clearer than in the performance they delivered only 24 hours after finding out their gaffer was going.
As Butcher watched from the main stand at Easter Road, in flat cap and managerial limbo, his new team was devastatingly dismantled by his former players.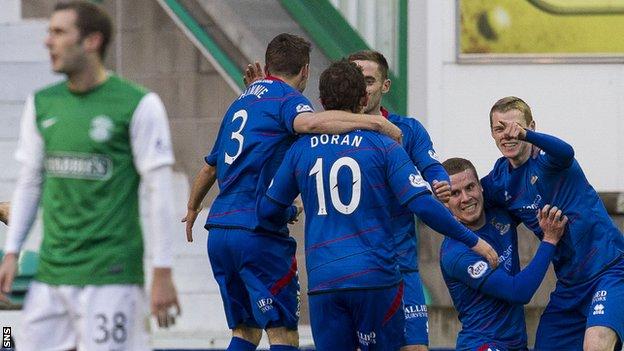 That match told him how far his old team had come in the last year or so and, on the other side of the coin, underlined the scale of the job he now faces.
At times Hibs were a shambles. Little communication, even less confidence. No pace and not much balance about the team. They've certainly cornered the market in central midfield players. There's little else.
Fortunately for chairman Rod Petrie, Butcher wasn't basing his decision on Hibs' latest nightmare 90 minutes. The manager-in-waiting had already made up his mind.
He sees this as a massive opportunity. Petrie is not renowned for throwing money around but the budget is more plentiful than his recent experiences.
There is a custom-built training base that he can call his own and a 20,000-capacity stadium which won't have too many empty seats on matchdays if he can turn the team's results around.
That is unlikely to happen overnight. He'll want to move some players on and bring in replacements when the transfer window permits.
Already his trusty lieutenant Maurice Malpas is back at his side with the talent-spotting Marsella not far behind. The repair work at Hibs is underway.
Butcher is moving out of his idyllic house-on-the-hill on the outskirts of Inverness and planning to set up a new home in East Lothian.
He finds his new football mission exciting and exhilarating rather than scary. It's certainly a big job, whatever your interpretation of that phrase.
But the big man has a taste for his new adventure and Hibs are certainly getting the vintage version of Mr Butcher.