Ritchie Humphreys: Who is the PFA's new chairman?
By Alistair Magowan
BBC Sport
Last updated on .From the section Football
There is an often-repeated tale that when the new Professional Footballers' Association chairman Ritchie Humphreys was a youngster, he was likened to Marco van Basten by Dutch legend Johan Cruyff.
The story goes that Humphreys impressed during a pre-season game in the Netherlands while playing for former club Sheffield Wednesday and the watching Cruyff was asked for an opinion on the then 17-year-old.
At the time, Humphreys, who is now plying his trade as a left-back at Chesterfield after 12 years at Hartlepool, was a dynamic forward about to light up the start of the 1996-97 Premier League season with a wonderful chipped goal against Leicester at Hillsborough.
Alas, the Cruyff story was no more than a journalist on the spin and it grew an extra dimension as the years went by.
While Humphreys did score the winner in a game against Utrecht, the now 35-year-old tells BBC Sport it was in front of a watching Van Basten, not Cruyff.
"As far as I know Van Basten was at the game and was asked how the Wednesday number nine had performed," Humphreys says with a slightly embarrassed chuckle.
"He politely said something like 'he played well, he might have a good career' and from that, the story was embellished into all sorts of things but it's been quite a good tale that has followed me around since."
It was an early lesson in how the media can spin a yarn but Humphreys will now be under far greater scrutiny after officially taking over from outgoing chairman Clarke Carlisle.
Humphreys takes the reins after a year in which the players' union has been called into crises over racism and homophobia - not to mention its own chief executive Gordon Taylor making headlines for gambling.
He might have a vastly different background to Carlisle, who detailed his problems with alcohol and depression in a recent autobiography, but Sheffield-born Humphreys will still be able to draw on his own experiences to tackle some of the game's more topical issues.
And he intends to go about his business in an understated way, with union members at the forefront of his thinking.
Humphreys, who is also on the Football Association's commission to improve the England set-up, knows all about the narrowing path that youngsters must negotiate to make it as professionals and he admits it is a "concern" for the union.
The PFA says five out of six players who join clubs in England full-time at 16 are out of the game by 21.
Having spent the majority of his career in Leagues One and Two, he is also conscious of the discrepancies between earnings at the top and bottom ends of the professional game.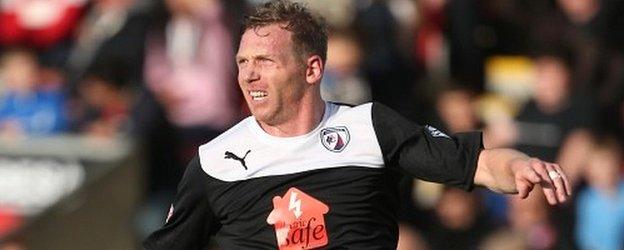 Humphreys signed as a schoolboy at Sheffield Wednesday but after a stellar start to his professional career his fortunes faded as the Owls signed Italian strikers Paolo Di Canio and Benito Carbone.
It is a scenario many youngsters now face in the Premier League with the amount of playing time for English under-21 players dropping to a new low last season as the number of foreign players increased.
He felt sidelined at the time but Humphreys has come to accept that his form dropped off. Still, when former Hartlepool boss Chris Turner took the youngster to the North East in 2001 in an attempt to resurrect his career, he admitted that the striker arrived "bruised" from the experience.
Humphreys tells BBC Sport: "At that age you have no fear and things really worked out but I have to be brutally honest and say if I maintained that form, I probably would have stayed in the Premier League.
"The reality is that it's really hard to sustain that level, that's why I take my hat off to the likes of Rio Ferdinand, Frank Lampard and Steven Gerrard - guys who are about my age and have stayed at the top for so long.
"I'm not doing myself down. Whatever level you play at, it is a great job and I cherish it every day. In the last year at Wednesday I didn't play much football and I wanted to go away and rebuild my career."
Humphreys may have had to drop down two divisions, but he revitalised his and Hartlepool's fortunes. And it served as a lesson for those who currently choose to sit on the bench rather than gain crucial playing time.
After Humphreys' arrival, Hartlepool went on to have their most successful period in years, almost winning back-to-back promotions as they established themselves at the top of the third tier.
Humphreys went on to make a club record 232 consecutive appearances, totalling 544 overall. He won the club's 'player of the century' award and even had a road in Hartlepool named after him.
Turner, who had two spells managing Hartlepool before taking over as Chesterfield's chief executive nearly two years ago, was not surprised Humphreys was still in good nick when they signed him last summer, describing him as the "ultimate professional".
Having made his 600th league appearance on Saturday, Humphreys' appreciation of lower league football will be crucial for the union over the next few years.
With the advent of BT's £897m TV deal, the money at the top level might be set to break new barriers but he knows what is at stake further down the pyramid. While the average salary in the Premier League is about £25,000 to £30,000 a week, in League Two it is about £1,500.
"What you learn in the lower leagues is that you have to play the games to get yourself a new contract because contracts are very rarely more than two years," he says.
Humphreys said he is too soon in the job to discuss how money might be distributed more fairly among the four tiers of English professional football but the fact that PFA members pay the same subscription no matter their wage packet gives an insight into the discrepancies that exist.
Football careers now last an average of eight years, leading the PFA to focus more on helping members prepare for life after retirement. Humphreys has already taken steps himself by passing a Uefa A coaching licence.
A more thorny issue for him to tackle will be the number of black and ethnic minority coaches in the professional game. At the moment there are only three black managers in the top four divisions.
The PFA has grown frustrated that attempts to highlight a list of qualified coaches in its 'Coaching Fair Play' initiative has gained little acknowledgment from the Premier League and Football League.
"We want to get CVs on tables at board level," says Humphreys. "Everyone deserves an equal shot."
With 3,500 male members and 100 female members, there is a sense that the next crisis is never far away in football as it struggles to stay in touch with social change.
But Humphreys appears to offer a steady hand to guide the union through choppy waters and his efforts to ensure lower league players are kept in mind could make him a popular leader.
Turner said: "The PFA have chosen a very wise professional. He is a character and he's a great influence on people so I don't think they could have picked anybody better."