Barnet: Tony Kleanthous confirms London Broncos talks
Last updated on .From the section Football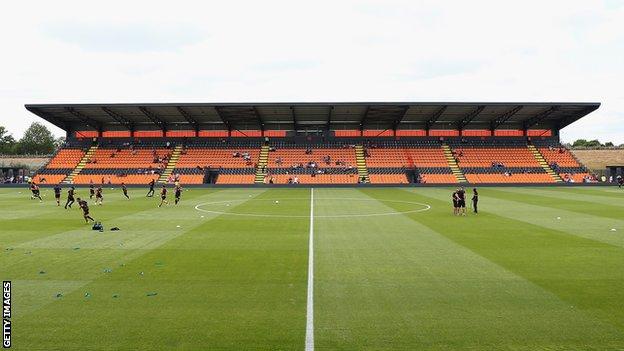 Barnet chairman Tony Kleanthous has held talks with London Broncos over the Super League side moving to The Hive.
"They talk a lot, that is for sure. I don't know whether something will or won't happen," Kleanthous told BBC London 94.9.
"At the moment I can assure you there is no deal. But who knows?"
Barnet moved to play their home matches at The Hive, which has a capacity of 5,176, this summer.
The Conference Premier side also use the Camrose Avenue site as their training base, as the 44-acre complex has a number of artificial and natural grass pitches along with fitness and gym facilities.
The Broncos are yet to confirm their plans for 2014, and have been replaced by a Wigan XIII in the annual Capital Challenge match against London Skolars.
The Chilean national football team have trained at The Hive in preparation for their friendly against England on Friday, while the Germany squad are set to arrive over the weekend to use the facility before their match at Wembley on Tuesday.
Kleanthous is eager to make sure the north London facility is utilised as much as possible but has warned it is close to capacity.
However, despite being open to talks with the Broncos, he says they face competition for the space.
"It is them and others. Let's be clear - it is not unique to them," Kleanthous added.
"We have spoken to other people, organisations and other sports that want to get involved here.
"From rugby to netball - everybody is coming down and saying 'wow this is great, what you are doing here is wonderful'.
"It is just the mechanics of trying to make it work.
"Unusually, we don't have much capacity left. We have 44 acres and the site is half a mile end-to-end and yet there isn't much left.
"There is only so much our pitches can take. We are quite precious about it.
"If there is a way to timetable things and fit things in, that may be another announcement we can make."
Along with the Broncos, Kleanthous has had meetings with the Rugby Football League, rugby league's governing body.
"The RFL are a pretty forward-thinking organisation," he said.
"I am quite impressed by them, although they have got some in-fighting going on at the moment. But that is happening in all sports.
"I never really paid much attention to rugby league as, being from the south, you only ever see rugby union.
"I was very impressed by it and it is a good sport."
Meanwhile, Kleanthous is set to unveil plans for a Barnet women's side.
"It's no secret we have won a franchise for the Women's Super League," he said.
"That project will be completely unique and we will be launching it soon. We will be doing something different with women's football. It will be interesting."