Gibraltar: Can Uefa's newest football nation rock Europe?
Last updated on .From the section European Football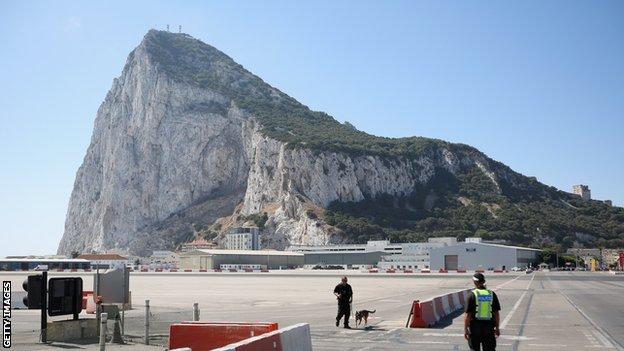 Union Jacks, red telephone boxes, fish and chips and pubs. Stroll down the main street in Gibraltar and you could just as well be walking around any part of London.
The difference is, of course, the tiny British Overseas Territory is located almost 1,500 miles from the English capital.
Ruled by Britain but attached geographically to Spain, Gibraltar are determined to stand on their own two feet as a football nation when they make their historic debut as European football's newest member in a friendly against Slovakia on Tuesday.
Smaller than San Marino, with a pool of only 600 players from which to choose, and a "home" ground 150 miles away, that will be easier said than done.
Nevertheless, Gibraltar are unperturbed.
"One of the conditions I set when I took this job was that we prepared immediately for competing in Europe and not wait until we were accepted in Uefa - so that we would be ready," manager Allen Bula told BBC Sport.
"Now we are Uefa members, we are in qualifying for Euro 2016 and that is the aim.
"People might say it is not realistic and it's crazy but I want Gibraltar to be respected. Liechtenstein are minnows and they are respected. That is my target."
For many, two things come to mind when they think of Gibraltar - the Rock that dominates the skyline, and the 200 or so macaque monkeys that inhabit it.
Soon, though, the hope is that football can be added to that list.
It has been a long and difficult path to becoming the 54th - and smallest - member of Uefa.
They first sought membership back in 1997 but that was rejected in 2002, with European football's governing body saying membership would be granted only to applicants recognised as sovereign states by the United Nations.
Gibraltar took their case to the Court of Arbitration for Sport, which determined that because Uefa's "non-sovereign" rule was not in place at the time of Gibraltar's original submission for membership, Uefa was obliged to accept the request for membership.
Years of hard work finally paid dividends in May this year when Gibraltar were accepted.

The news sparked wild celebrations on the streets of Gibraltar and workers were given half a day off to take part in a huge parade to mark the occasion.
"In terms of sport, it was the biggest celebration Gibraltar has ever had," said Desmond Reoch, president of the Gibraltar Football Association (GFA).
But once the ticker tape and party poppers had been cleared away, the hard work really began.
Gibraltar's home ground - the 5,000-capacity Victoria Stadium - does not meet Uefa's requirements to be able to hold competitive fixtures.
Plans are under way for a new 10,000-seater stadium to be ready by 2016, but until then Gibraltar's "home" games will be played at the Estadio Algarve in Portugal.
With a capacity of 30,000, it could hold the entire population of Gibraltar with a few seats to spare.
"We can play international friendlies in Gibraltar but Uefa rules mean we cannot play senior competitive games in a Category Two stadium, which the Victoria Stadium is," said Reoch.
"We will be playing our qualifying games for Euro 2016 in Portugal so we decided to hold Tuesday's friendly there as a sort of dress rehearsal - it gives us the chance to get used to it and maybe spring a few surprises next year."
That, though, is a relatively minor inconvenience for Bula.
The 48-year-old Gibraltarian, who has been in charge of the national team since 2010, has the unenviable task of assembling a squad from the smallest pool of players in Europe.
Clubs in the Gibraltar Premier Division, which features the likes of Manchester United and reigning champions Lincoln, are all amateur, meaning Bula's 23-man squad for the Slovakia game includes firemen, policemen and customs officials.
"I have a few professionals, a few semi-pros and the rest are amateurs," said Bula. "It tends to be a bit of a headache getting those groups into the same way of thinking but there is nothing I can do there."
The smattering of pros and semi-pros within the squad include Barnsley defender Scott Wiseman, striker Adam Priestley, who plays for non-league side Farsley, and former Stoke and Sunderland defender Danny Higginbotham.
The 34-year-old Higginbotham, who now turns out for Conference Premier side Chester, is eligible for Gibraltar through his grandmother's links to the British territory.
Bula also happens to be his uncle and the Gibraltar boss took to Twitter to recruit Higginbotham.
"I had only been on Twitter for a couple of months and Allen sent me a message asking to get in contact with me and it went from there," said Higginbotham, who was born in Manchester and began his career at the "other" Manchester United.
"I'll be the first to admit that I don't think playing for England was ever going to happen, because of the quality of players in my position. The simple fact was I was not good enough, so I never gave it a second thought.
"I never for one minute thought I would be playing international football at the age of 34, so this is an exciting challenge."
Higginbotham will bring invaluable experience from over a decade of playing in the Premier League, but he is also well aware that he will be one of the busiest players on the pitch.
San Marino, whose population exceeds Gibraltar's by a couple of thousand, are regularly on the receiving end of heavy defeats. In their most recent fixtures with England, they lost 5-0 and 8-0 respectively.
"We are the underdogs, we know that, and people will be expecting us to get turned over in every game we play," added Higginbotham.
"But it is all about having the experience and developing the youngsters coming though and trying to get this team put on the map."
As well as proving to the rest of Europe that they deserve their place in Uefa, Gibraltar have the small matter of standing in the shadow of reigning world and European champions Spain.
"We have them beside us and if we do anything wrong, it will come out in all the newspapers, so we have to work 10 times harder than anyone else," said Bula.
"We have been working very hard, we are developing and we will be pushed to the limit."
Being in close proximity to Spain might be intimidating from a football perspective, but it also brings with it political obstacles.
Spain have long claimed sovereignty over the territory, despite it having been ceded to Britain in perpetuity back in 1713, and the two countries recently became involved in a dispute when Spain increased border checks that resulted in long delays heading in and out of Gibraltar.
Bula is aware of this first hand. He lives on the Spain side of the border and even though he lives barely a couple of miles from Gibraltar's training pitches, it can take him up to three hours to cross the border.
That also poses potential problems for supporters wishing to attend Gibraltar's "home" games in Portugal. The GFA has already advised those travelling through Spain to keep flags and banners to a minimum.
"The reality is that it is there. It has not been easy for us to get into Uefa, there have been obstacles," explained Bula.
"There are no obstacles with the Spanish Federation, we get on very well with them, but politically it is always going to be there.
"Does it intimidate us? I'd say no, it makes us even stronger."
Everyone loves an underdog story, and so it would seem in Gibraltar's case.
Daniel Guerrero, the GFA's communications manager, says media attention ahead of Tuesday's game against Slovakia has been huge, with requests coming "from Denmark to China".
Much of that global curiosity will be focused on just what style of football can be expected from Gibraltar, especially with tiki-taka on their doorstep but a population who are fervent followers of the Premier League.
"We Gibraltarians love our Sunday roasts, but we also like a bit of paella. I think that blend is reflected in our style of football too," said Reoch.
Given the distance from Gibraltar to Portugal, it is unclear just how many fans will make the journey to witness their country's historic moment.
With the connection Gibraltar shares with Britain, Bula is hoping there will be strong support for their adventure coming from across the Channel.
"One day, maybe at Euro 2016, I'd love to have England in the same group as us, but I'd also settle for a friendly against them," he added.
"To walk out at Wembley for me, the players and Gibraltar - that is the dream."