World Cup 2014: Eto'o urges Cameroon set-up to unite
By Leocadia Bongben
BBC Sport, Yaounde
Last updated on .From the section Football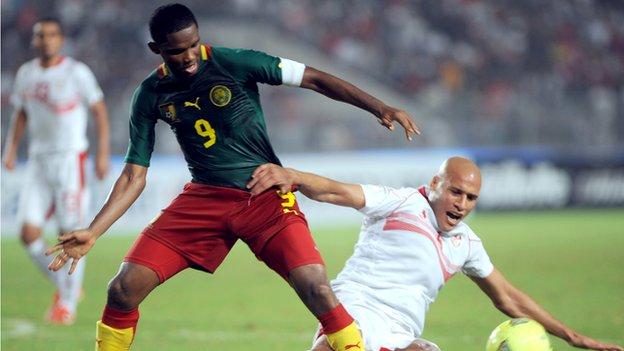 Samuel Eto'o has urged everyone in the Cameroon set-up to unite in order to help the team qualify for the 2014 World Cup in Brazil.
Cameroon are locked 0-0 with Tunisia going into Sunday's play-off second leg and Eto'o has promised to set aside his own long-running issues with the Cameroon Football Federation (Fecafoot) to focus on the game.
"Let's bury our differences to qualify the team for the World Cup", Eto'o said.
The Indomitable Lions skipper had alleged that his team-mates failed to pass to him during the first leg, adding on Thursday that there is video footage to confirm his claim.
While the Chelsea striker told coach Volker Finke that such behaviour should no longer happen in the national team, the German seemed not to be aware of any such incidents on the pitch.
In an attempt to promote harmony in the team, Eto'o said: "The game has to do with Cameroon and our country, let us forget our differences. Even if somebody would not greet me after the game, there is no problem.
"Those who defend the Federation and those who do not, we are all Cameroonians and I don't want polemics ahead of this game. On Sunday we have to do everything to qualify."
In the past there has been friction between Eto'o and some players and also with Fecafoot, with Eto'o criticising the management of the team.
Eto'o served a suspension for the part he played in a players' strike and his relations with Fecafoot have been strained.
The 32-year-old insists he wants to put that behind him, and is also hopeful he can make an impact against Tunisia after improving his form following a poor start to his Chelsea career.
He has scored three goals in his last two games for the Blues, having managed only one in his first 10 matches after his switch from Russian club Anzhi Makhachkala.
"Even if I had not scored for my club I was already getting set to come and play and contribute my quota for Cameron to qualify," Eto'o said.
"I am not obsessed to want to score on Sunday, though I have made it a habit to score, I am not egoistic.
"I know how to score goals, and I also know how to make the team play. I feel better with my smile and when I let others play. When I am sad in the field there is cause to worry, but when I am smiling it means that I want things to work."