England's World Cup auditions start against Chile at Wembley

By Phil McNulty
Chief football writer
Last updated on .From the section Football553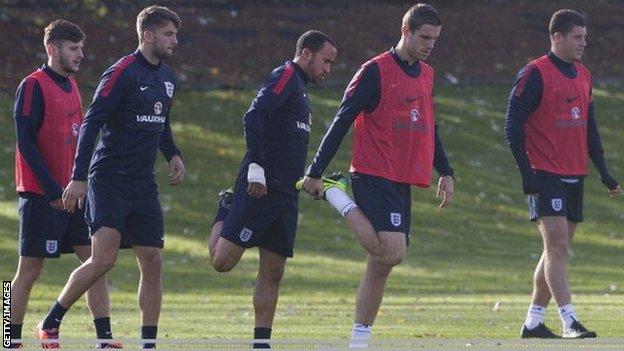 England's World Cup auditions start as Chile come to Wembley on Friday - and playing a role on the main stage in Brazil next summer is the potential prize at stake.
Manager Roy Hodgson was always going to indulge in experimentation and an exploration of options once England had confirmed their place in South America with back-to-back victories against Montenegro and Poland.
Some of the hopefuls will get the opportunity to impress him, and perhaps create a positive impression for the day when selection time arrives, in the forthcoming friendlies against Chile and Germany.
Hodgson insists his thoughts on England's World Cup squad cannot be crystallised because of the rigours of the Premier League and the risks to fitness it may pose over the next few months.
If all of Hodgson's preferred choices stay fit, it will still be a long shot to believe the likes of Southampton's gifted pair Adam Lallana and Jay Rodriguez will be boarding the plane carrying England's players and the nation's hopes with them to Brazil.
But both will play a part on Friday and Hodgson is open-minded enough to be persuaded by a powerful case from some of the 'possibles' attempting to work their way in among the 'probables'.
Rodriguez and Lallana will win their first caps while goalkeepers John Ruddy and Celtic's Fraser Forster will be hoping for the chance to impress as first-choice Joe Hart takes a break on the bench after his recent struggles at Manchester City.
Ruddy and Forster may well be fighting over one place once Ben Foster, who impressed Hodgson when he worked under him at West Bromwich Albion, is fit again.
Everton teenager Ross Barkley will also be hoping for another opportunity while Liverpool midfield man Jordan Henderson will also want to seize a chance should it be offered in forthcoming days.
There may even be openings for West Ham United's Ravel Morrison and West Bromwich Albion's Saido Berahino should they maintain their progression before Hodgson settles on his squad for Brazil.
For all the caution of his public utterances, understandable given the way he lost several players in the build-up to Euro 2012, Hodgson will be looking to his established squad members to confirm their places.
The spotlight will turn on the likes of Lallana, Rodriguez, Barkley, Forster and Ruddy against Chile - although Hodgson insists he will judge their work in a wider context.
He said: "The rehearsals can be as good as you like, but it's when they step out on stage on the first night that it really counts. It's going to be a big night for them if they get their chance and unfortunately if they do fail spectacularly and do really badly, it will be held against them.
"But I would like to think that I will make my judgements on these players not purely on their success or relative failure during the 90 minutes but on what feeling I have got for them during these get-togethers and also what I see of them week in, week out in the Premier League.
"There's no doubt that one can bemoan as a national coach that you don't have all the training sessions that a club coach has, but on the other hand we do get an awful lot of chances to see all of the players and we do take it very seriously."
He added: "I would like to think that, if a guy gets a chance, he'll be good enough to take it and confirm that he deserves his place in the squad in the first place. I'll hope also that I won't make draconian judgements about them if they don't have a particularly good game."
At this stage Hodgson insists he has not even drawn up an imaginary squad in his mind - so the friendlies between now and World Cup selection carry real meaning even if they will not have the intensity of competitive fixtures.
He said: "You know the reason I don't compile a list? It's a very simple reason - so many things can happen between now and May.
"It's an interesting exercise and it's one that's fun to do and I'm sure we all do it, but basically it's an exercise with no meaning, because if you remember, before we went to the Euros, I lost Frank Lampard, Gareth Barry, Gary Cahill, John Ruddy and Kyle Walker. Wayne Rooney couldn't play the first two games.
"So there were all of these people who for weeks on end had been part of my very clear group and then all of a sudden, at the last minute, I hadn't got them. The honest answer to your question is that I don't do that at the moment. I have a larger group of players that we keep a very close eye on.
"We've got a few really on the fringes who maybe haven't played much part at the moment, who we look at, lot of them in the Under-21s. You take a guy like Callum McManaman for example. We were talking about him the other day.
"He was flying for Wigan at the end of last season and then he got that unfortunate injury, so he's one we'll have a look at. There's a group like that.
"But at the moment I can't honestly say I've got 18 names stamped and I'll only need another five, because I'd be lying. That's not the case at all."