Celtic's Peter Lawwell praises success of league shake-up
Last updated on .From the section Celtic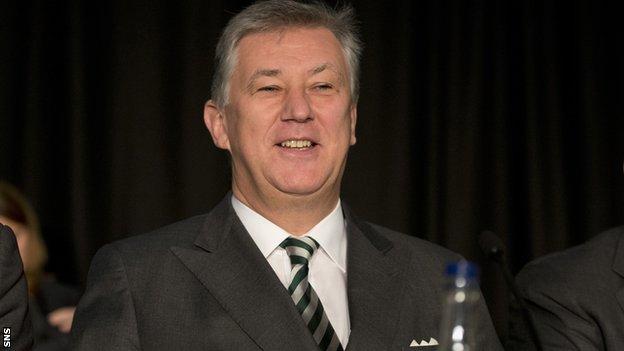 League restructuring has breathed new life into Scottish football, Celtic chief executive Peter Lawwell has told the club's annual meeting.
Lawwell said the Scottish Professional Football League has "given us something new".
The chief executive said that, despite the domestic progress, Celtic would continue to explore other options.
"We have a duty to do that, not just for Celtic but for Scottish football," he said.
Lawwell, who was re-elected unanimously to the board, said the new SPFL set-up offered much-needed stability.
Following successful talks last summer, the league structure remained as a top flight of 12 and three lower divisions of 10, with play-offs introduced between the top and second-tier league.
In addition, the SPFL revised the financial distribution model.
"Another major benefit was the redistribution of finance from the top league going down to the lower leagues, which I think was a great show of solidarity for Scottish football," he suggested.
"Hopefully that will give its benefits in terms of the quality that will be in the new Championship.
"I think the line is drawn now so we know where we are, but it's not the end.
"Everyone in Scottish football has got to look at the challenges that face them and come up with a strategic plan that will maximise the potential of Scottish football going forward."
Regarding Celtic's desire to explore playing in leagues outside of Scotland, Lawwell said: "The way the world has gone in terms of media values, which are driving the success of major leagues around the world, in a country of 5,000,000 people it is very difficult to bridge that gap.
"So I think we all have a responsibility to continually look at the playing environment in Europe and make sure that, if there is change, and I think there will be change in the coming years, Celtic and Scottish football play a part in that."
The SPFL recently signed a one-year deal with a Chinese online TV station that forms part of a wider 10-year agreement and Lawwell is eager to explore further opportunities in the Far East.
"We're looking at possibly partnerships around academies, we're looking at partnerships around player development and possibly social projects over there," he said.
"So, in the longer term, the Celtic brand, if you like, gets profile and exposure, not only in China but other markets."
Chairman Ian Bankier declared even more ambitious goals on the international arena.
"I would love to see this club become one of the main players on the world stage of modern football," he said.
"I think there is tremendous romance and expectation about Celtic Football Club.
"I think we put smiles on people's faces everywhere and in every continent of the world.
"I think we have a tremendous attitude to life, I think we have humour, I think we have a sense of social responsibility, I think we have great people in here, I think we have the best fans in the world bar none and I think the combination of that is unstoppable."