Jim McCluskey: Tributes to late Scottish referee
Last updated on .From the section Football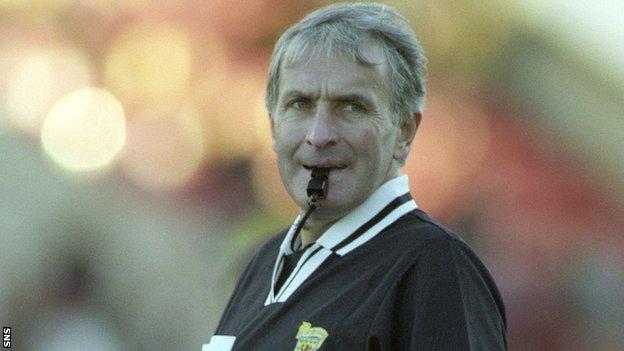 The Scottish FA says it is shocked and saddened to hear of the death of former referee Jim McCluskey.
McCluskey, who had been suffering from illness for the past two years, died on Thursday at the age of 63.
The whistler took charge of several domestic cup finals as well as European and international fixtures.
"Jim's personality enabled him to control matches with a strong will but with a mutual respect," said an SFA spokesman.
"Whilst Jim had been suffering from illness over the last two years, his death - at only 63 years old - has come as a great shock to all who knew him.
"Our deepest thoughts are with Jim's wife Anne and their family.
"Jim established a great reputation and was much respected within the game; by clubs and players as much as his fellow referees.
"In refereeing terms, he was the ultimate 'safe pair of hands' and able to deal comfortably with the most demanding situations in matches.
"His qualities were recognised by both Uefa and Fifa as he established himself as one of the top referees in Europe with a string of major appointments coming his way during his international career, allied to those he received in Scotland."
McCluskey began refereeing in 1976 and progressed to the senior ranks in the 1980s.
Having retired after officiating at the 2000 Scottish Cup final, McCluskey became a referee supervisor for his own Ayrshire Association.
In 2003, he was appointed a member of the referee committee and acted as a referee observer for both the SFA and Uefa.
SFA head of referee development John Fleming said McCluskey's prior experience as a senior footballer enhanced his ability to officiate.
"He had that feel for the game," he said.
"Jim was not a referee who would reach for cards. Jim would speak to players, he would understand.
"He could probably see things happening quicker than some of the referees who have not played football.
"A true gentleman, an absolute true gentleman."