Dutch lawyer investigates Celtic supporter claims
Last updated on .From the section Football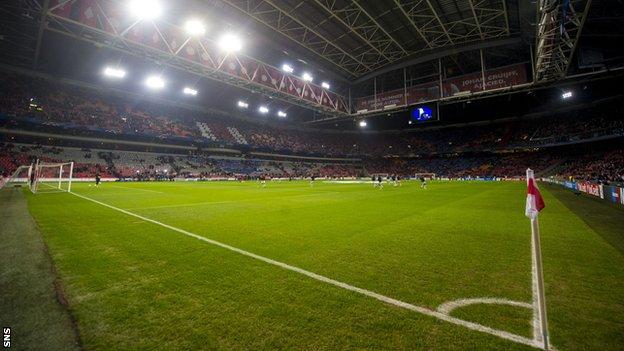 Celtic have engaged the services of a Dutch lawyer to investigate complaints from the club's fans over their treatment in Amsterdam last week.
Chief executive Peter Lawwell said: "This lawyer will be tasked with looking at each serious complaint more closely on behalf of our supporters.
"Events in Holland need to be looked at in real detail."
Lawwell insists Celtic are treating the issue with "real seriousness".
"As we have said already, Celtic Football Club does not condone any form of violent or offensive behaviour and clearly, should it be found that anyone connected to the club has indulged in such behaviour, then absolutely, as a responsible football club, we will take the appropriate action," he told Celtic's annual meeting.
"We have received numerous complaints from supporters concerning their treatment in Amsterdam and it is our duty to investigate these further.
"Celtic and our supporters have a tremendous reputation. It is one we hold dear and one which we want to preserve.
"Celtic has been pro-active, serious and sincere in relation to this matter and we will continue to be so."
Dutch police made 44 arrests and, of the 28 Celtic supporters held, 22 were freed - 10 without charge and 12 after paying fines.
Police claimed that eight officers were hurt after being attacked with bottles and sticks by Celtic fans.
But, in a fresh club statement, Celtic said: "Prior to the match against Ajax, Celtic Football Club put into action the normal rigorous matchday planning protocol, which involved visiting Holland in advance, liaising with all relevant authorities, including both the Scottish and Dutch police forces, Uefa, AFC Ajax and the British consul.
"As part of the visit to Amsterdam for this match, we took six police officers from Police Scotland, along with 13 travel stewards to accompany our supporters.
"All relevant safety and security information was relayed to supporters in advance, including particular areas of the city which were identified as unsafe by local police.
"Following an incident in the city centre on the Tuesday evening where Celtic supporters were attacked, the club repeated its warning for supporters to be vigilant.
"Following the incidents on match night, Celtic FC engaged in immediate dialogue with all authorities, including the British Consulate, to understand what had happened.
"It became clear that a number of arrests had been made but also became clear that there was considerable comment regarding the negative treatment of our supporters."