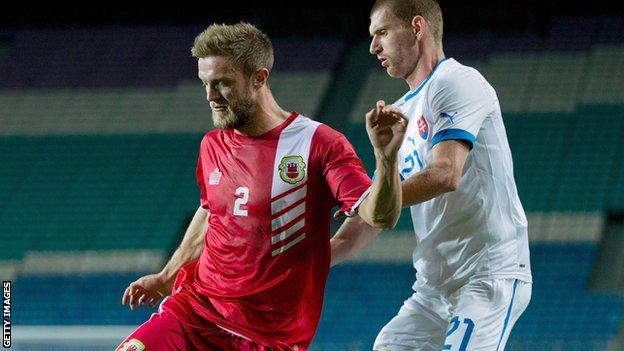 Gibraltar marked their historic debut as a Uefa member by holding Slovakia to a goalless draw in Portugal.
Slovakia hit the bar but Gibraltar held on for the hugely credible result.
A few hundred fans attended the game at the Estadio Algarve - a 30,000 capacity stadium that could hold the entire population of Gibraltar.
The stadium will be Gibraltar's home for Euro 2016 qualifying games, which get under way next year, because their own ground in Gibraltar, the Victoria Stadium, does not meet Uefa requirements to be able to hold competitive fixtures. They can play friendlies in Gibraltar, but opted to play in Portugal as preparation for the qualifiers.
Much of their squad, managed by Gibraltarian Allen Bula, is made up of amateurs from Gibraltar's domestic league, but featured a handful of professional and semi-professional players.
Those included Barnsley's Scott Wiseman and former Manchester United defender Danny Higginbotham, who now plays for non-league Chester and was making his international debut at the age of 34.
Prior to joining Uefa, Gibraltar played against the likes of Greenland and the Isle of Wight, with their biggest victory a 19-0 win against Sark of the Channel Islands.
Consequently, Slovakia - despite missing several first-team players - provided a sterner test. They are ranked 27th in Europe and recently won 2-0 in Poland.
Gibraltar rarely threatened throughout, with Adam Priestley, a striker who plays for non-league Farsley Celtic in England, having their best effort with a deflected cross that flew into the hands of Slovakia goalkeeper Tomas Kosicky.
Slovakia, meanwhile, found themselves repeatedly frustrated by the Gibraltar defence - led by man-of-the-match Higginbotham - and their best chance came in stoppage time when a corner hit the bar.
The draw for the Euro 2016 qualifiers will be held in February and Gibraltar plan to continue their preparations by hosting friendlies against the Faroe Islands and Estonia in March at the Victoria Stadium.
"It was very emotional before and after the game," said Higginbotham. "It's been a long way to get here and I don't think too many people thought we would get the result but we deserved it.
"It was backs against the wall for most of the game but we expected that. In the end we were unfortunate because we had a few good chances at the end."