Fifa rejects football elections in Morocco
Last updated on .From the section Football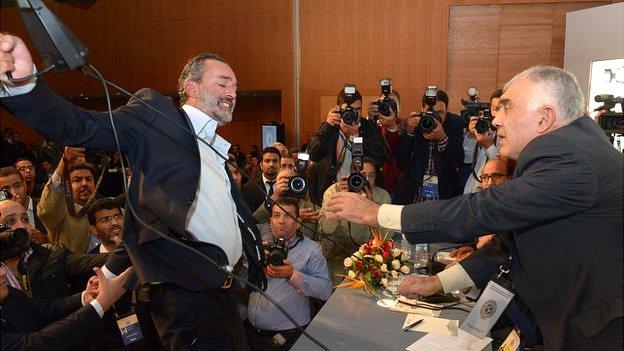 Fifa has annulled the election of Fouzi Lekjaa as the new president of the Moroccan Football Federation (FRMF) and demanded a fresh vote.
The move comes less than a month before Morocco becomes the first African nation to host the Fifa Club World Cup.
The world governing body accused the FRMF of failing to adopt the correct statutes before organising the election.
"The Fifa Emergency Committee has decided ... not to recognise the elections held by the Moroccan (Federation) on 10 November 2013," said the Fifa statement on Friday.
The elections proved an ill-tempered affair and had resulted in the removal of Ali Fassi Fihri, who headed up the previous executive committee and who will now be in charge for December's Club World Cup.
Morocco is also set to host the Africa Cup of Nations in January 2015.
Fihri - who did not stand for re-election after just one term of office - will remain in charge until new elections are scheduled for the new year.
"Fifa has asked the FRMF to adopt statutes in conformity with the Fifa Standard Statutes before organising new elections in the first half of 2014," the statement read.
"In the meantime, the outgoing Executive Committee will be in charge of managing the FRMF."
"The decision was taken in view of the fact that the FRMF had not fulfilled its duty to comply with Fifa directives."
Fifa stipulated that the decision would have no effect on the Club World Cup, which will run between 11-21 December in Marrakech and Agadir.